President McCoy Among Four Higher Ed Leaders to Discuss 'Liberal Arts Institutions of the Future'
June 17, 2017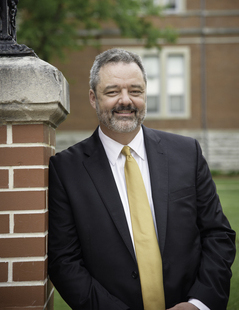 D. Mark McCoy, the 20th president of DePauw University, will be one of four higher education leaders who will engage in a discussion, "Designing the Liberal Arts Institutions of the Future," following the annual meeting of NACUBO (the National Association of College and University Business Officers). The session will take place July 31 in Minneapolis.
Dr. McCoy will be joined by David Anderson, president of St. Olaf College and Georgia Nugent, former president of Kenyon College, in a conversation that will be moderated by Doug Lederman, editor of Inside Higher Ed.
An announcement notes that McCoy "previously served as dean of the DePauw University School
of Music, leading a large-scale transformation which drew national attention for the innovative restructuring of music programs in higher education. His diverse educational background makes him a firm believer in and product of both the professional school and the liberal arts tradition."
Learn more here.
Mark McCoy was appointed DePauw's twentieth president on March 7, 2016 following a national search and took office July 1, 2016. He was inaugurated in October during ceremonies over Old Gold Weekend.
The president's speech from last weekend's Convocation for Alumni is embedded below.
Back