Social Entrepreneurship of Three Young Alums Spotlighted in Newspaper
February 1, 2012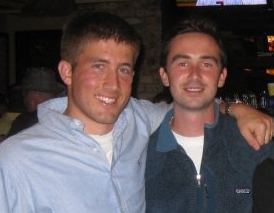 Johnny Buchta "developed True Hero Ties with two friends he met at Indiana's DePauw University: Matt Newill and Ryan Tinker," notes a story in Illinois' Kane County Chronicle. "About 12-18 months ago, Buchta said, he and Newill saw a 60 Minutes piece on the large number of homeless U.S. military veterans. The story hit them hard, he said. Not only were many of the veterans their age, he said, but he and his friends also come from families who have veterans in their bloodline."
Newill and Buchta (seen in top photo) are 2008 graduates of DePauw; Tinker received his degree in 2009. The three social entrepreneurs, who were Management Fellows at DePauw, launched True Hero Ties last Veterans Day. Their organization sells neckties, with 50% of the proceeds sent to U.S. veterans organizations.
Response to the idea has been tremendous. "We just sold out a couple of days ago," Buchta tells the newspaper.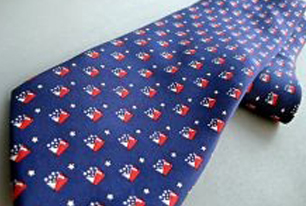 Ashley Rhodebeck writes, "With the True Hero Ties, Buchta said, they hope to raise awareness and money for veterans while connecting everyday people to the veterans in an everyday fashion. Although Buchta, Newill and Tinker are in different cities – Chicago, Denver and Cincinnati -- they work together in filling orders they get through their website, Buchta said. They wear their ties to work and to parties, trying to spread the word any way they can, he said. They are working to establish a retail presence, he said, and they say they have been contacted by a retailer about creating a partnership."
Access the full story at the Chronicle's website.
True Hero Ties and its founders have previously been featured in USA Today, Inside Indiana Business and on Indianapolis and Cincinnati television.
Back