Jennifer Monty Rieker '00 Named Partner at Weltman, Weinberg & Reis
March 19, 2012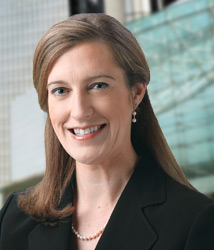 Jennifer Monty Rieker, a 2000 graduate of DePauw University, has been named a partner of Weltman, Weinberg & Reis Co., LPA. Monty Rieker practices in the firm's Litigation & Defense Group with a focus on consumer finance litigation and compliance. She is based in the firm's Cleveland office and handles a variety of litigated matters involving compliance with state and federal regulations, as well as contested foreclosure cases and appeals.
A communication major and Media Fellow at DePauw, where she graduated cum laude, Jennifer Monty Rieker earned her J.D. from Ohio State University's Michael E. Moritz College of Law in 2003.
Her promotion is noted in Northeast Ohio's Inside Business magazine.
Learn more in this previous article.
Back