Mike Howland '02 Picks Up 2 'Coach of the Year' Awards
April 3, 2012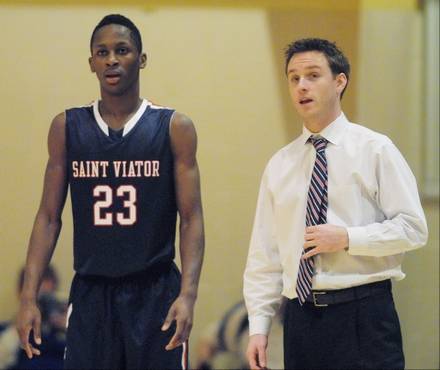 "Being named Coach of the Year is a wonderful honor for our entire program," says Mike Howland, head boy's basketball coach at Saint Viator High School in Arlington Heights, Illinois. A 2002 graduate of DePauw University, Howland has been named Illinois Basketball Coaches Association Class 3A/4A District 4 Co-Coach of the Year and was East Suburban Catholic Conference Coach of the Year. (photo: Joe Lewnard/Chicago Daily Herald)
"No coach has ever won this award without having great players and an equally great coaching staff," says Howland, whose Lions were 25-4 and reached the 4A sectional semifinals in his first season at the helm. "This award is not just for me, but for every person on the team. We all worked hard over the last year, and this recognizes what we have accomplished together."
An article in the Daily Herald today notes, "Howland was a two-time Daily Herald All-Area point guard who played on Viator's 1997

ESCC co-champions and graduated in 1998. He played at DePauw University in Greencastle, Ind., and was an assistant for eight years under Joe Majkowski."
Read more at the newspaper's website, or access this previous story.
Back