Prof. Alex Kondonassis '52 Authors Global Economic Development: The Evolution of Theory and Practice
February 7, 2012
Alexander Kondonassis, a 1952 graduate of DePauw University, has authored Global Economic Development: The Evolution of Theory and Practice.
The book "illuminates global economic development in a fresh, concise and clear manner," according to a synopsis. It "is centered on three main elements in understanding the principles of economic development: the meaning and measurement of development, the driving forces behind development, and an analysis of the effects and remedies."
Dr. Kondonassis is David Ross Boyd Professor of Economics Emeritus and Regent's Professor of Economics Emeritus at the University of Oklahoma.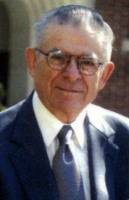 After graduating from DePauw, where he was an economics major and Rector Scholar, Kondonassis earned M.A. and Ph.D. degrees from Indiana University. He has taught as a Fulbright Professor at the Athens School of Economics and has lectured extensively in the United States and abroad. The professor has more than 80 books, monographs, chapter and articles to his credit and was inducted into the Oklahoma Higher Education Hall of Fame in 1998.
In 2008, Kondonassis joined the University of Oklahoma's exclusive Seed Sower Society. Learn more in this article.
Back