Ken Owen '82 Among Presenters at Next Week's O'Bannon Institute for Community Service
April 18, 2012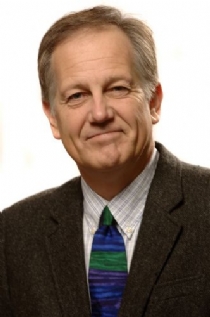 Ken Owen, executive director of media relations at DePauw and 1982 graduate of the University, will moderate a panel discussion at the ninth annual O'Bannon Institute for Community Service. Presented by Ivy Tech - Bloomington, the event -- "America the Dutiful: The Questions that Occupy U.S." -- will take place April 25-27 and will be headlined by Pulitzer Prize-winning columnist George Will.
Owen, a former television news anchor and reporter, will lead a Friday, April 27 session titled "The Drama of Obama v. ?: What Will Happen in the 2012 Presidential Election?". The panel will include Abdul-Hakim Shabazz, attorney, former host of Abdul in the Mornings, WRTV commentator and publisher of IndyPolitics.org; Kip Tew, partner, Krieg DeVault, 2008 Obama for America state chair, WRTV commentator and former chairman of the Marion County Democratic Party; Shira Toeplitz, staff writer for Roll Call, the newspaper of Capitol Hill; and Fred Yang, partner, Garin Hart Yang Research Group.
The day will conclude with a session with ABC News and NPR political analyst Cokie Roberts.
The O'Bannon Institute is an annual opportunity for the community to come together to discuss topics related to nonprofits, education and political and civic service. It is named to honor the legacy of the late Governor Frank O'Bannon, in recognition of the role he played in the formation of Indiana's community college system and in commemoration of his lifetime commitment to community service.
Admission to Friday's sessions is free with canned good or free-will donation for Hoosier Hills Food Bank. Lunch is provided, but reservations are required. To make reservations call Tina Phelps at (812) 330-6001 or e-mail tphelps@ivytech.edu.
Learn more here. The event will be streamed via this link.
Ken Owen returned to DePauw in 2001 after two decades in TV news.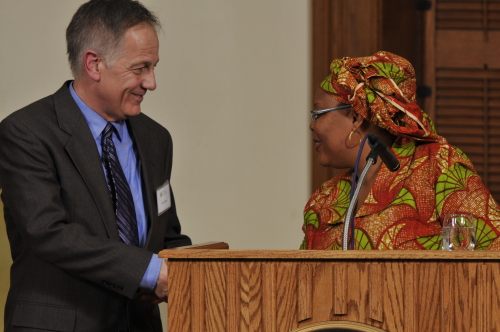 Along with his responsibilities to raise the University's external visibility, he coordinates the Timothy and Sharon Ubben Lecture Series and the annual Monon Bell telecast. His efforts to make pieces of DePauw's past more relevant and accessible include the recent restoration of a 1941 admission film, and he has created "Monon Memories" of every football game between DePauw and Wabash College for the Monon Bell since the rivalry began in 1890. The video vignettes were the subject of features in the Chronicle of Higher Education and during HDNet's telecast of the 115th Monon Bell Classic in November 2008. (photo: Owen with 2011 Nobel Peace Prize recipient Leymah Gbowee as she concluded her February 15, 2012 Ubben Lecture)
A communication major and Rector Scholar at DePauw, where he delivered broadcasts over WGRE, Owen
has taught journalism at Indiana University - Purdue University at Indianapolis. He serves on the board of directors of the Indianapolis Public Relations Society and co-chairs the Annapolis Group communications committee. He also moderated a panel at last year's O'Bannon Institute.
George Will presented an Ubben Lecture at DePauw on March 4, 1994.
Back