Work by "Bing" Davis '59 Considered for New Memorial Art Garden in Lexington
April 26, 2012
Willis "Bing" Davis, a 1959 graduate of DePauw University, is "one of five artists from across the country who was asked to submit a scaled model of his work that could serve as the signature piece in the Isaac Murphy Memorial Art Garden being created at the very site where Murphy grew up on Lexington's East End," reports the Dayton Daily News. "The five entries were unveiled to the public two months ago and are now being reviewed by a Lexington panel," writes Tom Archdeacon.
Murphy rode the winning horse in the Kentucky Derby three times and "won a never-to-be-equaled 44 percent of his career mounts (628 of 1,412 starts) and was the first jockey ever inducted into the National Museum of Racing and Hall of Fame," notes the newspaper. "Not only will the Garden celebrate the accomplishments of Murphy and other prominent African-American jockeys -- 15 of the first 28 Kentucky Derbies were won by black jockeys (and almost none have even ridden in the race in the past century) -- but it will also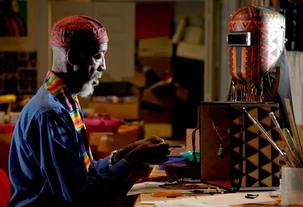 serve as a gateway to Lexington's Legacy Trail connecting the downtown to the Kentucky Horse Park, where Murphy has been reburied alongside the great race horse Man o' War." (photo at left: Lisa Powell/Dayton Daily News)
Learn more about the project and Davis' creation at the Daily News' website.
Bing Davis became an educator after graduating from DePauw and taught at both the high school and college levels, including at DePauw, Miami and Central State universities. He's also the subject of this previous article.
Back