Star Columnist Writes of NYC Vernon Jordan '57/Dan Quayle '69 Event
June 16, 2012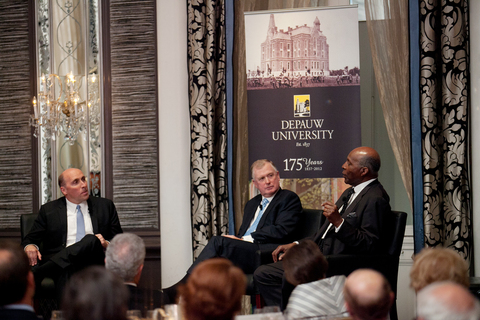 "DePauw University alums former Vice President Dan Quayle and civil rights activist Vernon Jordan Jr. were on hand to celebrate their alma mater's 175th anniversary this week in New York City," reports the Indianapolis Star's Cathy Kightlinger. "Quayle -- who graduated from DePauw in 1969 and served as Vice President to President George H.W. Bush -- and Jordan -- who graduated in 1957 and was a close adviser to President Bill Clinton -- attended a reception and dinner Tuesday at the Waldorf Astoria in New York City." (photo: DePauw President Brian Casey moderated Tuesday's discussion)
The "Talk of Our Town" columnist adds, "DePauw officials have been organizing alumni functions around the country this year to spotlight its landmark anniversary."
Kightlinger writes that "lots of laughs came when Jordan recounted an experience he once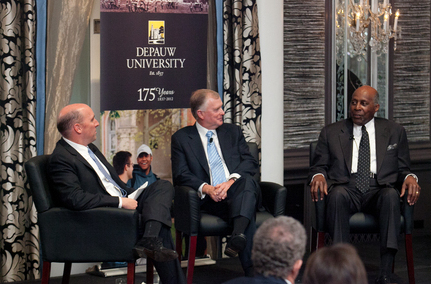 had at another function with former Prime Minister Margaret Thatcher, who mentioned that she thought it was good to be in America where its citizenry sprung from the people who came from England on the Mayflower. Jordan's response: 'Prime Minister, not ALL of us came over on the Mayflower.'"
Access the item at the newspaper's website.
DePauw University's 175th anniversary celebration began January 10 and continues through June 2013. Learn more by clicking here.
Source: Indianapolis Star
Back