Deborah Daniels '73 and Two Others with DePauw Ties to be Honored as 'Local Champions'
July 3, 2012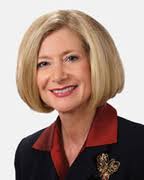 Three individuals with ties to DePauw -- including Deborah J. Daniels, a partner in the law firm of Krieg DeVault LLP and 1973 graduate of the University, will be honored as "local champions" by Girls Inc. of Greater Indianapolis. Daniels will join Myrta Pulliam, director of special projects at Star Media and member of DePauw's Board of Trustees, and Rabbi Sandy Eisenberg Sasso of Congregation Beth-El Zedeck in Indianapolis, who was awarded an honorary doctorate by DePauw in November 1986, at the 2012 "Lighting the Way: Empowering Tomorrow's Champions" Touchstone Awards on Thursday, July 12. (at right: Deborah Daniels)
A fourth individual, Dr. Lauren Dungy-Poythress, will also be honored at the annual luncheon, which will take place at 11 a.m. at the JW Marriott in downtown Indianapolis. Approximately 500 guests and 70 Girls Inc. summer campers will attend the luncheon to celebrate women lighting the way for greater Indianapolis girls.
"As a 2006 honoree, I look forward to celebrating the accomplishments of these four leaders in our city," says Melissa Proffitt Reese, the 2012 Touchstone
Awards chairwoman. "The Touchstone Awards showcase extraordinary women and girls, and an exceptional organization."
"Each of these honorees demonstrates what it means to be champion for others," notes an announcement from Girls Inc. "While at the Department of Justice, Daniels won multiple awards for her outreach to victims of the September 11, 2001 attack on the United States. Dr. Lauren Dungy-Poythress provides specialized maternal-fetal care to her patients and their physicians. As director of special projects at Star Media, Myrta Pulliam combines her passion for news and community by overseeing the Season for Sharing and Star Charities program. Finally, Rabbi Sandy Eisenberg Sasso paved the way as the first female Reconstructionist rabbi and continues to be a champion for Congregation Beth-El Zedeck."
"In our twenty-fifth year of lifting up the community's strong, smart, and bold women at the Touchstone Awards, we are delighted to include this year's honorees," states Patricia Wachtel, president & CEO of Girls Inc. "These local champions serve as role models for greater Indianapolis girls and truly light the way for women and girls everywhere."
Learn more by clicking here.
Back