Jim Alling '83 is Interim CEO of T-Mobile USA
June 27, 2012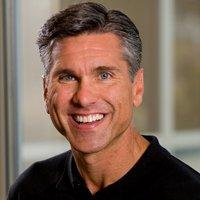 Jim Alling, chief operations officer for T-Mobile USA and 1983 graduate of DePauw University, has been appointed interim CEO of the company. He replaces Philipp Humm, who resigned after two years leading the nation's the fourth-largest wireless carrier.
Read more at CNN/Money.com.
Formerly the president of Starbucks Coffee International and Starbucks USA, Jim Alling also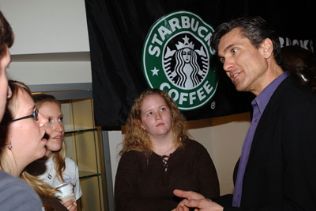 served as vice president and general manager of several divisions at Nestlé. He was an economics and Spanish major at DePauw. (photo at left: Alling talks with DePauw students)
Alling returned to the DePauw campus on March 13, 2007 to present the Timothy and Sharon Ubben Lecture, "Growing Big, Staying Small at Starbucks." A summary of the speech -- complete with photos and video and audio clips -- can be found in this previous article. Also available below is a video montage of his address.
Back