Patty Aspinall '48, Whose Olympic Dreams Were Dashed by WWII, Featured in Newspaper
August 2, 2012
"Patty Aspinall made it all the way to New York City," begins a feature in today's Indianapolis Star. "Just 13, the Indianapolis native took the 700-mile trip in 1940 with her focus, her national swimming records and a spot on the U.S Olympic team headed to Helsinki, Finland. She was the second woman from Indiana to make the Olympic swimming team -- the first was her close friend Euphrasia Donnelly, who had taught her how to swim." (top photo: Kenneth L. Hawkins Jr./Indianapolis Star)

Kate Jacobson writes, "The 1940 Olympics were waiting. But the boat never came. It was too dangerous to make the trip because of German U-boat attacks. The Games were canceled in 1940 and '44 because of World War II. Aspinall didn't get to compete."
"World War II really affected people," Aspinall, a member of DePauw University's Class of 1948, tells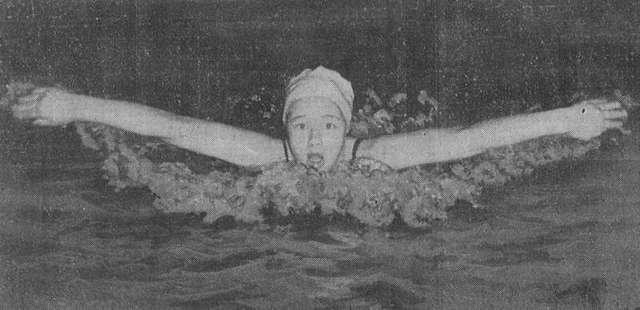 the newspaper. "People knew we had to go to war. It was an honor to serve your country, and nobody really complained."
The story notes, "In 1939 at the Olympic trials in Portland, Ore., a 12-year-old Aspinall set the American record for the 200-yard breaststroke ... Her titles and awards go on and on: Outstanding Woman Athlete of Indiana, Indiana State Champion, All-American. She would have competed fiercely at the Olympics had she received a chance, but her disappointment was tempered by the war in Europe."
Aspinall left college to marry her sweetheart, John Reel, when he returned from World War II.
Read the full story at IndyStar.com.
Back