Newspaper Profiles "Towering Figure" and DePauw Hall of Famer Jack Isenbarger '45
September 26, 2012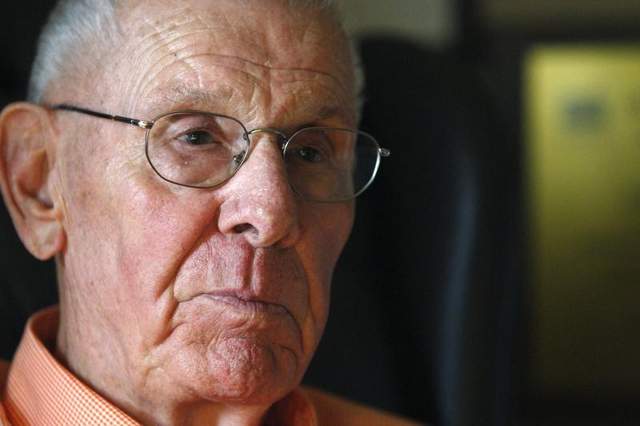 "At 6-feet-4, Jack Isenbarger agreed that ducking for cover was easier said than done during his service as an Army infantryman in Europe during World War ll," begins a feature on the 1945 DePauw University graduate, published in Indiana's Muncie Star Press. "Today, at age 89, he remains a towering figure, one who talks about his experiences in the measured tones and with the calm demeanor of a man who has seen a lot, and survived a lot, in this world." (photo: Ashley L. Conti/Star Press)
John Carlson writes, "A 1941 Central High School graduate, he studied economics at DePauw University early in the war, ending a semester on June 5. 'On the eighth of June I was gone,' he said with a quiet chuckle. He was drafted into the Army, run through basic training, then sent to a specialized training program at Fordham University in the Bronx before joining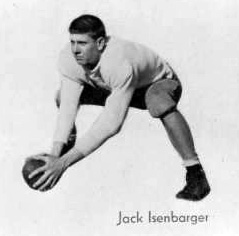 the 104th Timberwolf Division as a 60-millimeter mortar man. By August of 1944 they were in Europe, attached to the 1st Canadian Army."
The story details Isenbarger's war experiences, which came to an end when he was wounded in Germany in December of 1944. After nearly four months of recovery, he returned home and "finished his degree at DePauw and also joined the Reserves. Called back to duty for Korea, he made it as close as Tokyo before being mustered out of the service in 1952 due to arthritis in his injured leg. Besides forging a successful business career, he also went into public service, eventually serving a couple years as Republican county chairman, four terms on city council and two terms as a county commissioner, plus being named chairman of the Indiana Parole Board and then commissioner of the Indiana Department of Transportation."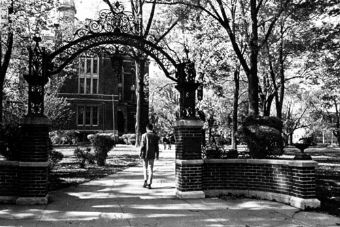 The newspaper notes, "The awards on the walls of his den, meanwhile, speak to a life of achievement, including his induction into DePauw's athletic hall of fame for his football and basketball exploits, and two Sagamore of the Wabash awards from former Indiana governors Otis Bowen and Robert Orr."
You'll find the complete story at the website of the Star-Press.
John P. Isenbarger was inducted into the DePauw Athletic Hall of Fame in 1995.
Back