ESPN Founder Bill Rasmussen '54 to be Featured on Statewide TV Business Program
October 11, 2012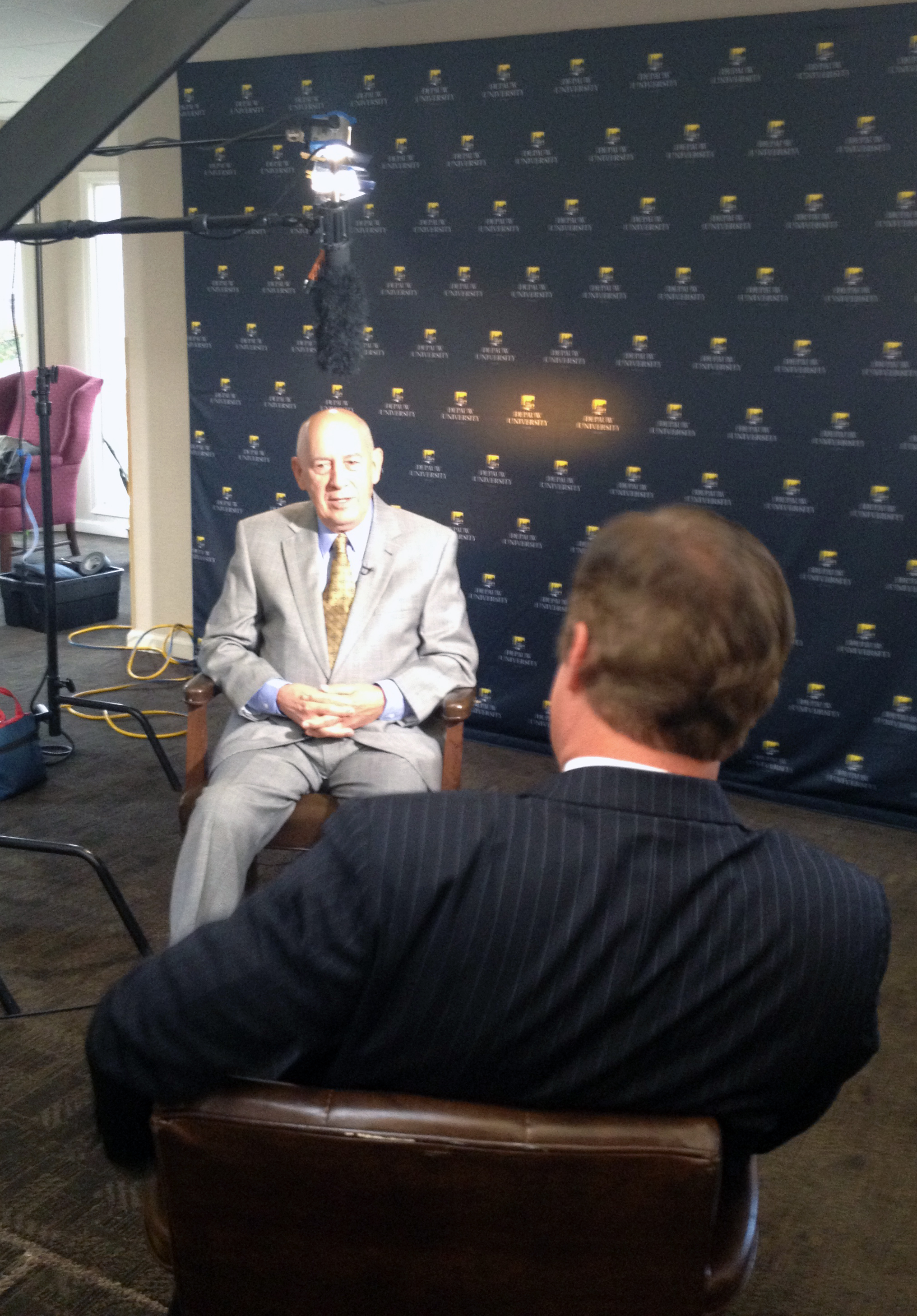 Bill Rasmussen, the founder of ESPN and 1954 graduate of DePauw University, will be featured this weekend on the statewide television program, Inside Indiana Business with Gerry Dick. The show's host and a crew came to campus yesterday to interview Rasmussen, who is spending two weeks at his alma mater as executive-in-residence. He discussed how the sports network was founded in 1979 and the entrepreneurial vision that he's been sharing with DePauw students over the past week-and-a-half. (at right: Rasmussen and Dick chat on Wednesday morning)
Inside Indiana Business can be seen on flagship station WTHR/NBC in Indianapolis and a host of other Indiana TV outlets. A listing of affiliates and broadcast times is available here.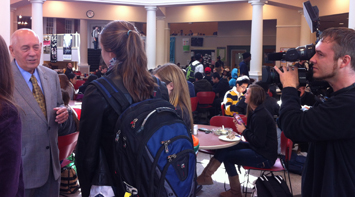 The Indianapolis Star recently listed Rasmussen as one of "The 20 Most Interesting People Visiting Indy This Fall." ESPN was co-founded by Bill Rasmussen's son, Scott, a 1986 graduate of DePauw who is a nationally recognized pollster. (at left: Rasmussen chats with students in the Hub)
Chris Berman calls Rasmussen "the George Washington of ESPN." Jim Miller, the co-author of the recent book, Those Guys Have All The Fun: Inside the World of ESPN, told SportsBusiness Journal that Rasmussen "is a guy whose idea gave birth to, arguably, the most successful media story of our time."
Rasmussen was named in 1994 by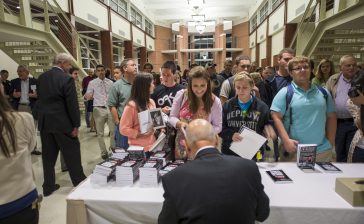 Sports Illustrated as one of 40 individuals who had the greatest impact on the world of sports over the previous 40 years. He was recognized as one of the 2011 class of "The Champions: Pioneers & Innovators in Sports Business."
On October 4, Bill Rasmussen delivered a 175th Anniversary Distinguished Alumni Lecture in Kresge Auditorium. Video and audio of that speech can be found via this link (click on the "On Demand" tab and then select the Rasmussen event; photo shows Rasmussen signing books after his lecture).
Back