Prof. Bob Steele '69 Analyzes Newsworthiness of High-Profile Prostitution Case
October 14, 2012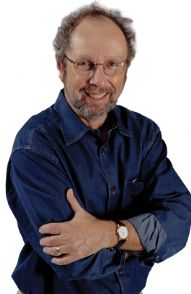 What are the ethical implications of publishing the names of as many as 150 or more alleged "johns" uncovered in a prostitution case in Kennebunk, Maine? A report in the Waterville Morning Sentinel examines that, noting that the existence of the list "has been a subject of both anticipation and dread in Kennebunk, a town of 10,500 on Maine's southern coast."
Tom Bell reports, "The Kennebunk case has drawn media attention because police have the names of a large number of alleged clients for a single prostitute, and the alleged crime occurred in an established business that served as a front for the operation, said Bob Steele, a professor of journalism ethics at DePauw University. Steele said the crime committed by each of the alleged 'johns' is not particularly unusual or newsworthy. However, the operation that [the two suspects charged in the case] operated is out of the ordinary, so it would not be unusual for the media to publish their names while not publishing those of each 'john.' Also, [the alleged prostitutem Alexis] Wright is charged with a felony, he said."
Dr. Steele says, "It's one of those classic cases where you have to draw the distinction between what the public may want to know and what the public needs to know. In this case, you are balancing the value of truth with the potential for harm."
In the professor's view, Bell notes, "media outfits should publish the list only if they publish the Kennebunk police log as a matter of routine. If not, he said, they should publish only the names of people who have important positions in community roles, such as a police officer or local politician. Steele noted that publishing the list would punish the accused much more severely than the $200 fine they face if convicted of the misdemeanor charge of soliciting a prostitute."
You'll find the full article at the Morning Sentinel's website.
A 1969 graduate of DePauw, Robert M. Steele serves as Distinguished Professor of Journalism Ethics and Phyllis W. Nicholas Director of DePauw's Janet Prindle Institute for Ethics. Steele is one of the nation's top experts on journalism ethics and is frequently cited in media reports, including an Associated Press story last week.
Source: Waterville (Maine) Morning Sentinel
Back