Citizens Must Demand Better Civic Dialogue: Former Congressman Lee Hamilton '52
November 4, 2012
"The election of 2012 has called attention to how difficult it is for Americans to talk reasonably with one another about public policy challenges," writes Lee H. Hamilton in a newspaper op-ed. "Our civic dialogue -- how we sort through issues and reason with one another -- is too often lamentable."
Hamilton, a Democrat who served 34 years in the U.S. House of Representatives, is a 1952 graduate of DePauw University. Congress is mired in partisan gridlock, he says, noting, "There's no real discourse, just the two parties hammering at each other in a mean-spirited, strident tone. Small wonder the public holds Congress in such low esteem."
He adds, "It seems impossible to change, but it's not. Ordinary citizens -- you and I -- have it in our power to put our political dialogue back on track. The first step is to understand that in a politically and socially diverse country, with two houses of Congress and a president required to pass legislation, compromise isn't a luxury. It is almost always a necessity. Too few politicians seem to grasp this. So if we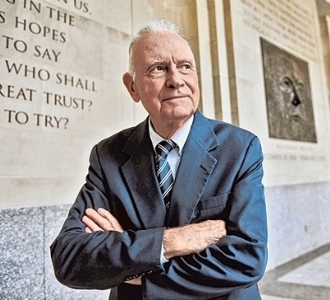 want things to improve, if we don't like intense partisanship and political game-playing, then we must choose officials with an instinct for collaboration. And we, as their constituents, have to give them room to craft legislation with broad appeal."
Disagreement is good and healthy, Hamilton asserts, but so are: "Respect for one's adversary. Tolerance of different beliefs and perspectives. Graciousness. A fundamental respect for facts. The humility to recognize that we might be wrong and the integrity to admit it. When the next political attack ad appears on your television screen, keep these virtues in mind. Because if we don't like the tone of our politics, you and I are the only ones who can change it. We must make it clear to office -- seekers and to our political friends that we do not like inflammatory name-calling or constant attacks on an opponent's motivation. Let it be known we are tired of excessive partisanship -- that we want a genuine dialogue that searches for common ground and solutions."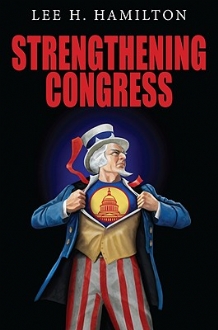 Read the complete essay at the website of Alabama's Andalusia Star-News.
Lee Hamilton, who co-chaired the 9/11 Commission and Iraq Study Group, is now director of the Center on Congress at Indiana University. He majored in history as an undergraduate and starred on the Tiger basketball team (and is a member of both the Indiana Basketball Hall of Fame and the DePauw Athletic Hall of Fame).
Hamilton has been a frequent visitor to DePauw over the years, having presented commencement addresses in 1971 and 1998. He also was among the presenters at DePauw Discourse in 2006 and 2008 and delivered an Ubben Lecture on March 15, 2011. His book, Strengthening Congress, "should be required reading for members of Congress and the people they serve," Matthew Tully wrote in the Indianapolis Star.
Back