Family of William Dugan '60 Donates Letters from Matthew Simpson to University Archives
January 5, 2013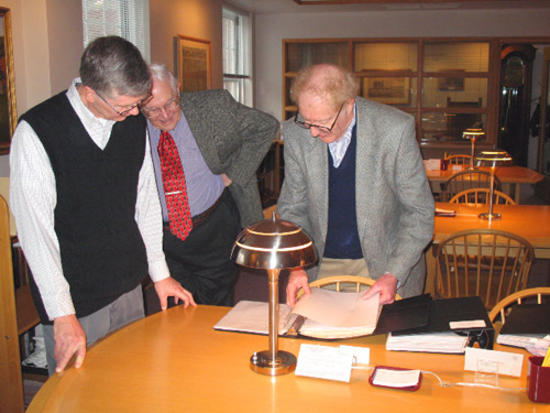 A gift by William M. Dugan, M.D., a 1960 graduate of DePauw, and his family, has provided the University's Archives with a collection of letters written to Matthew Simpson, the college's first president. "The collection, encompassing five notebooks and all carefully preserved in archival clear plastic sleeves, were written to the young president (who had been born in 1811) from 1838 through the 1840s," notes a story on the gift published in Greencastle's Banner-Graphic. (photo shows, l-r, DePauw Archivist Wesley Wilson and John Baughman '48, professor emeritus of history, with Dr. Dugan)
Simpson was elected Indiana Asbury's first president on February 7, 1839, and he led the institution until July 1848. He went on to serve as Methodist bishop of the Philadelphia area and was a confidant of Abraham Lincoln. After the assassination of President Lincoln, his widow called upon Simpson to deliver the funeral oration at Lincoln's funeral in Springfield, Illinois.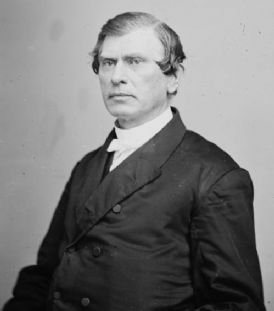 Wes Wilson says of the Simpson letters, "Indiana Asbury was very new and small then, and its future was anything but certain. So the collection is an extremely important addition to the documentation of DePauw's history, especially coming as it does during the University's 175th anniversary year."
The newspaper reports, "Dr. Dugan said he had collected the historic letters because he is an avid stamp collector. The collection has great philatelic, and Dugan has used it in an exhibit. The whole Dugan family was involved in preparing the collection of letters for donation. His wife, Ann (Carper '61), transcribed all the letters, while granddaughter and DePauw junior Emily (Curnow) created indexes to the correspondence."
Read more at the newspaper's website. Also available is this previous article.
Back