Huntington Bank Promotes John Irwin '79 to Regional President
January 30, 2013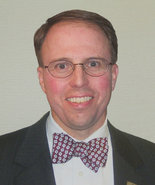 John W. Irwin, a 1979 graduate of DePauw University, has been promoted to president of Huntington Bank's West Michigan region. "Irwin, 56, has been part of Huntington's West Michigan operations for 11 years, most recently as corporate banking regional manager," reports the Grand Rapids Press. "In his new role, Irwin will lead the commercial business segment and orchestrate business development and service activities among all of Huntington's businesses in the West Michigan region."
"John already does a great job as a leader for Huntington in West Michigan," says Steve Steinour, Huntington's chairman, president and CEO. "It is a natural move for him to take on the role of president for the region, continuing the positive contributions he has supported as a leader in the West Michigan business community."
"Huntington's proven support for business to drive economic performance, particularly in Michigan, makes taking on my new role a welcome challenge," states Irwin, who majored in economics and management at DePauw. "It is rewarding to represent a bank that is so intensely dedicated to its customers and communities."

The newspaper notes Irwin's DePauw degree and his M.B.A. from Indiana University. It also points out that he "is a board member of the Gerald R. Ford Council, St. Cecilia Music Center and the Women's Resource Center, and is also a steering committee member of the Huntington Colleagues' Good Government Fund (HBI-PAC)."
Read more at the Press' website.
Back