Laura Kelley '08 & Chris Burton '09 in Indy Production of The Matchmaker
February 11, 2013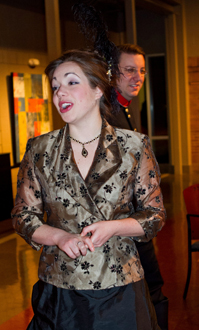 Two graduates of DePauw University -- Laura Kelley '08 and Chris Burton '09 -- have key roles in the upcoming Garfield Shakespeare Company production of Thornton Wilder's The Matchmaker, the play that inspired the hugely popular Broadway and motion picture musical Hello, Dolly!. The show will be performed at the Garfield Park Arts Center, 2432 Conservatory Drive, in Garfield Park, Indianapolis. Shows are at 7 p.m. March 8-9 and 15-16 and 2:30 p.m. March 17.
Kelley will reprise the role of nosey matchmaker Dolly Levi. Burton will serve as assistant director for his second GSC play and also handle the role of Malachi Stack, a con man with a heart.
Kelley majored in religious studies and Spanish at DePauw. She sang with DePauwCappella, a performance group at DePauw, and performed in the college's theatre productions of Sweeney Todd, Our Town (another Thornton Wilder play) and Children of Eden. She came to Indianapolis after graduating DePauw to join the Indianapolis Corps of Teach for America. While doing that, Kelley earned her Master of Arts degree in teaching at Marian University. She now works for Stand for Children, a non-profit leadership development and training program that identifies and advocates strategies to improve education
achievement at the primary and secondary levels. The Matchmaker marks Kelley's debut with the all-volunteer Garfield Shakespeare Company -- and her first theatrical role since her years at DePauw.
Burton majored in theatre as an undergraduate and had roles in more than a half-dozen DePauw productions. He is audio and visual engineer for Indianapolis-based CAB Productions and also works at Northwest Radiology Network. Some of his notable theater roles have been Feste, in Twelfth Night with IndyShakes at IndyFringe, for which he also was company composer; Peter Quince, A Midsummer Night's Dream, Garfield Shakespeare Company; Emerson, Curse of the Starving Class, IndyFringe; Sir Toby Belch, Twelfth Night, DePauw University; Ernie Hardaway (nominated for Irene Ryan Scholarship at Kennedy Center American College Theatre Festival Region 3 '09), Natural Selection, DePauw University.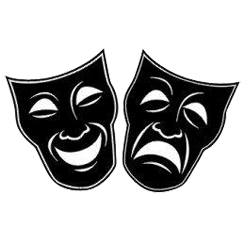 Admission to the upcoming performances is free, but donations are enthusiastically welcomed. The arts center asks you to call ahead of time, during normal business hours, to secure seating. The center's phone number is (317) 327-7135 and its hours of operation are 4 to 9 p.m. Tuesdays through Thursdays; 10 a.m. to 3 p.m. Fridays; and 9 a.m. to 4 p.m. Saturdays.
Back