New Compositions by Kevin James '83 "Haunting, Riveting": New York Times
April 1, 2013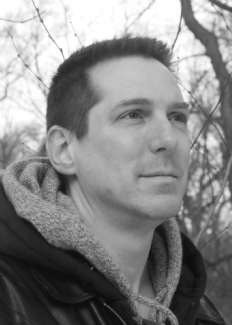 "The 'Vanishing Languages' project by Kevin James, a New York-based trombonist and composer, is a rare hybrid of conservation effort and memorial, new music and ancient languages," opines the New York Times. Corinna da Fonseca-Wollheim writes, "Prodded by Unesco statistics that predict that by the end of the century half of the world's 6,000 languages will be extinct, Mr. James spent months in the field tracking down and recording the last remaining speakers of four critically endangered tongues: Hokkaido Ainu, an aboriginal language from northern Japan, the American Indian Quileute from western Washington, and Dalabon and Jawoyn, aboriginal languages from Arnhem Land in Australia."
The review of Friday's performance by Ethel, Speak Percussion and the [kaj] ensemble at Roulette in Brooklyn states that James' compositions Ainu Inuma and Counting in Quileute "were as haunting as they were riveting," notes the review.
"The program provided no printed transcriptions of the streams of foreign words that came in sputters and torrents out of the speakers surrounding the audience and blended in and out of the music. When pressed by an audience member during a short discussion Mr. James revealed only that one of the women heard during Ainu Inuma was giving a cooking demonstration.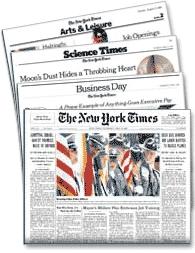 But since the last fluent speaker of Ainu died seven years ago, and the two remaining Quileute speakers 'don't like each other,' according to Mr. James, even the most prosaic words take on the hermetic mystery the Egyptian hieroglyphs held before the discovery of the Rosetta Stone. While much of Mr. James's music possesses a mournful quality with keening glissandos, ghostly harmonics and wobbly cello notes that echo the brittle voices of the very old, it also manages to convey his fascination with the surface beauty of language. Both pieces call on performers to mimic speech on their instruments with extended technique and constant fluctuations of speed and meter."
Access the complete text at the Times' website (a subscription may be required). Learn more about the "Vanishing Languages" project here.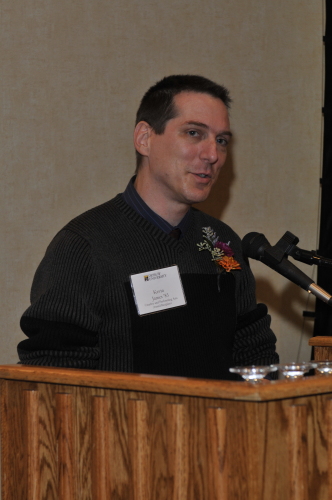 Kevin James is a 1983 graduate of DePauw University and returned to campus in 2011 to speak and receive a Distinguished Alumni Achievement Award. He has received awards and grants from the American Composers Forum, Jerome Foundation, NEA, Meet the Composer, New York State Council on the Arts, American Music Center and many others.
A noted arts educator, James' groundbreaking models for community engagement and out-of-school arts education on behalf of New York City's most vulnerable children were developed during an eight year tenure as director of arts learning at the Police Athletic League.
Read more here.
Back