"It's About Love," J. Nichols '89 Says of His Efforts to Save Sea Turtles
July 10, 2013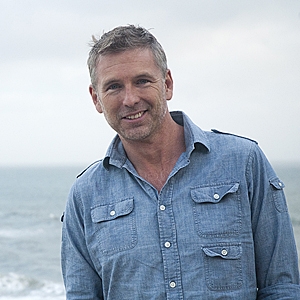 Wallace J. Nichols, the 1989 DePauw University graduate who has spent his career researching and working to protect sea turtles, is asked what motivates him. "It's about love," he says in a segment of the Weather Channel's online series, Brink. "I love these animals. I love working with them."
The video shows how Dr. Nichols -- through Grupo Tortuguero, which he founded in 1999 -- has worked to convince poachers in Mexico who hunt the turtles for their meat and eggs that the survival of the creatures is at stake and that is in the interest of no one to allow them to become extinct.

"The only people who are going to be able to fix this are the people doing the turtle hunting," Nichols says.
The video --which contains some graphic images of the slaughter of a sea turtle -- is available at the Weather Channel's website.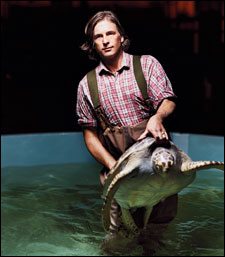 J. Nichols (he goes by his middle initial) is a research associate at the California Academy of Sciences. He has authored and co-authored more than 50 scientific papers and reports and his work has been featured in National Geographic, Scientific American, Outside, TIME and Newsweek, and he was seen in Leonardo DiCaprio's documentary, The 11th Hour. He recently wrote how his community service experiences at DePauw influenced him.
Dr. Nichols, who was a biology major as an undergraduate, delivered the principal address to the University's Class of 2010, "You Are Lovers and Fighters." Video of the speech is embedded below.
Back