World Record Swim Attempt by George Thornton '62 Comes Up Short
August 8, 2013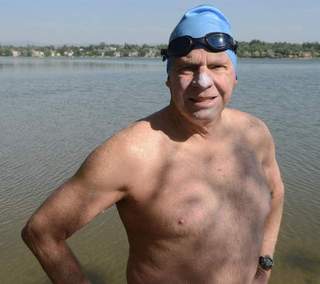 George Thornton, a 1962 graduate of DePauw and member of the University's Athletic Hall of Fame, is today trying to become the oldest person ever to swim across the English Channel. Thornton began the 21-mile journey -- which will take 16-to-18 hours -- at 8:54 a.m. local time (3:54 a.m. EST).
[UPDATE 1:46 EST -- Thornton abandoned his bid for the record as he reached the separation zone of the Channel -- halfway across -- due to hypothermia. His attempt lasted 9 hours, 18 minutes and 52 seconds. He is said to be OK and headed back by boat to Dover, where the swim began.]
Thornton's son, Charles, blogged during the world record attempt. Two hours into the swim, he reported, "Beautiful day. Calm, flat seas. Feelings going well. Dad in good spirits. Maintaining 54 SPM (strokes per min)." About an hour later, he added, "Tell everyone THANKS! All going great. Just entered SW shipping lane. Big cargo ships. Dad making jokes. Good spirits. Consistent stroke rate for 4+ hours." About an hour before the swim ended, he sent, "1/2 mile to the separation zone, George is making jokes and looking well, on our 9th hour into the swim."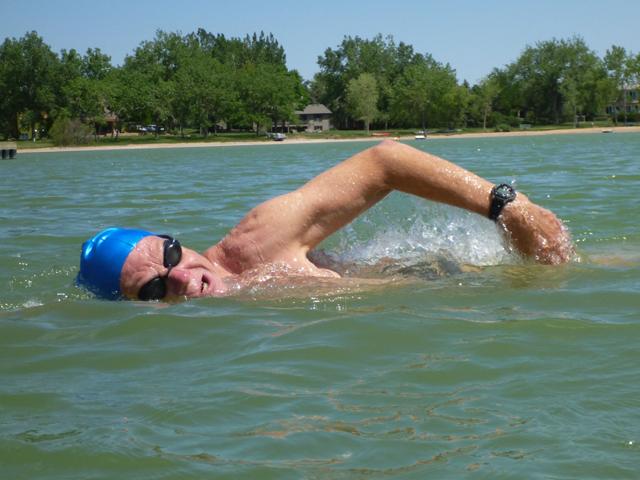 Learn more here and here. Also available is an update from Denver Fox affiliate KDVR-TV, which includes video from today's attempt.
The current record holder is Roger Allsopp, who was 70 years, 4 months old when he completed the swim in August 2011 in a time of 17 hours, 51 minutes, 19 seconds. Thornton is 73.
George C. Thornton III , a professor emeritus of psychology at Colorado State University, is hoping to raise more than $20,000 for Team Fort Collins, an organization that fights substance abuse. A psychology major and Rector Scholar at DePauw, Thornton was on the swimming and diving team as an undergraduate.
Back