'On the Shoulders of Ancestors: The Art of Willis 'Bing' Davis '59' Opens at Peeler Center Aug. 28
August 11, 2013
Also: Visual Art, Design & Creative Writing Intersect in Peeler Exhibition, 'Darkfire and The Waiting Room' and Explore and Discuss Unique Exhibition, 'Living as Form (The Nomadic Version)', Sept. 5 - Nov. 28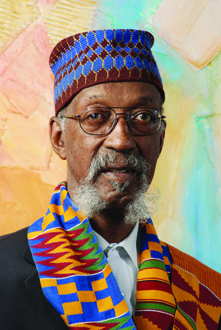 Artist and educator Willis "Bing" Davis, a 1959 graduate of DePauw University, returns to his alma mater this month to celebrate an art career spanning more than 46 years of teaching, exhibitions, art-making, and community engagement. "On the Shoulders of Ancestors: The Art of Willis Bing Davis" will be on display at the Richard E. Peeler Art Center starting Wednesday, August 28, through Tuesday, October 15.
"On the Shoulders of Ancestors", marks Davis' first solo exhibition in the Peeler Center and includes mixed-media works from the years 1966 – 2013. A free public lecture by the artist will be held in the Peeler Art Center Auditorium on Thursday, September 12, beginning at 4:15 p.m. A reception for the artist will follow in the Peeler lobby.
Bing Davis' connections to DePauw University extend back to 1959 when he graduated with a degree in art education. In 1970, Davis accepted an offer to return to DePauw as its first full-time, tenure track African American professor. As he recalls, his decision was partially influenced by the fact that "Richard Peeler was still on the faculty and [that] I would have another opportunity to be in his presence."
Davis' work was also included with other ceramic students of Richard Peeler's in the 2013 exhibition "Looking Back / Looking Forward: Richard E. Peeler and His Students."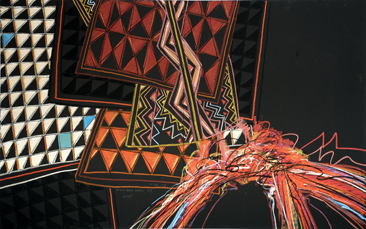 As for the artwork of Bing Davis, he recently noted, "My work and career has been built within the atmosphere of the difficulty of being an African American visual artist in America who chooses to draw artistic inspiration from his heritage." This use of his African ancestry is most evident in his drawings, which frequently reference traditional Kuba cloth garments. Large in scale and powerfully vibrant, Davis' pastel drawings leverage both scale and tradition to create modern day renditions of these culturally significant fabrics. Indigenous African masks and altars are also frequently referenced in the artist's artwork and installations."
The exhibition is free and open to the public. The galleries of the Peeler Art Center are open Monday-through- Friday from 10 a.m. to 4 pm; Saturday 11 a.m. - 5 p.m.; and Sunday 1 – 5 p.m., and are closed during University breaks and holidays. Visit the Peeler Galleries online for more information about special events associated with this exhibition. You may also contact Craig Hadley at (765) 658-6556 or at craighadley@depauw.edu.
Back