1883 Graduate and "Exponent of Holiness" Samuel Logan Brengle Recalled in Washington Times
September 22, 2013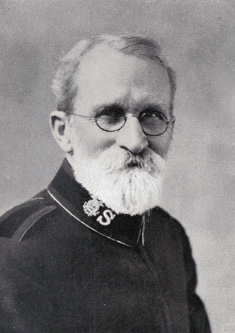 "He's been dead for 77 years, and Samuel Logan Brengle's influence was chiefly limited in his lifetime to the Salvation Army, a scrappy evangelical church as much as a social services mission, and to the relatively small cluster of evangelical Protestant congregations comprising the 'holiness movement,' " begins a column published in the Washington Times. Mark A. Kellner writes, "But it's my belief that Brengle's teaching of the potential for 'personal holiness,' of being so sold-out to God that one is consumed with love for one's fellow man and care for their spiritual life, is more vital today than perhaps at any other time in recent history."
Kellner adds, "We live in an ever-coarsening age, it seems, and civility appears to have departed much of civil society. A reading -- and application -- of Brengle's teachings might help balance things out."
A member of Indiana Asbury's Class of 1883, the last class to graduate before the college changed its name,
"Brengle, regarded as something of a prodigy at what is now known as DePauw University in Indiana, studied at what is today Boston University's School of Theology. He had his choice of comfortable pulpits awaiting him, but instead chose to travel to London and link his fortunes to the then-young Salvation Army founded by William Booth. Booth wasn't as welcoming, viewing Brengle as 'dangerous,' having both a college education -- which Booth lacked -- and experience as his own man. In turn, Brengle accepted the lowliest of assignments: polishing the boots of fellow Salvation Army trainees. He eventually won Booth's confidence and went on to decades of service as an exponent of holiness."
Brengle was awarded an honorary Doctorate of Divinity degree from DePauw in 1914 (above left is the badge he was issued for commencement; it resides in the DePauw University Archives). Twelve years later he became the first American-born Salvation Army officer to be promoted to the rank of Commissioner.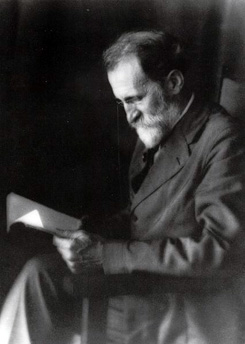 In 1935 Brengle became one of the first Americans inducted into the Order of the Founder "for inestimable services rendered to the Army by the writing of widely circulated books on holiness, and for unceasing labor and example as a true soldier of the Cross." He died on May 19, 1936.
Kellner concludes, "If you are looking for a series of daily readings that will challenge your thinking -- and what you do after thinking -- I can think of few better 'teachers' than Samuel Logan Brengle."
Access the complete essay at the Times' website.
The Salvation Army notes, "The first American-born Salvationist to make a significant impact on the way the Salvation Army developed was Samuel Logan Brengle. He became an internationally renowned evangelist, author, and teacher of holiness." Read more here.
Back