Chris Johnston '83 Commended for Contributions to Greek Life at DePauw
October 12, 2013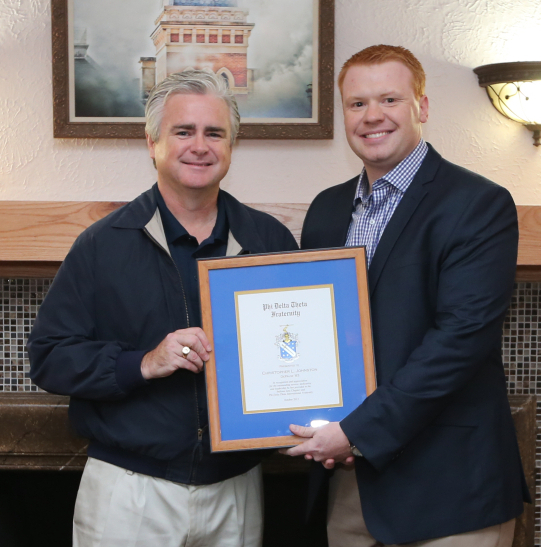 Chris Johnston, a 1983 graduate of DePauw University, was recognized today by the national leadership of Phi Delta Theta fraternity for his contributions to DePauw's Phi Delt chapter and Greek life at the University. Johnston was surprised with a commemorative plaque, which presented by Sean Wagner, associate executive vice president of Phi Delta Theta International, based in Oxford, Ohio. (photo, l-r, shows Johnston and Wagner)
"CJ", as he's known by many, was the key driver in Phi Delt's successful capital campaign which led to $1 million in upgrades to the chapter house at 446 Anderson Street. Johnston chairs DePauw's Greek Life Advisory Council, is a member of the Phi Delt International's housing commission, and is a longtime member of the house corporation board of Indiana Zeta. He was an economics major as an undergraduate.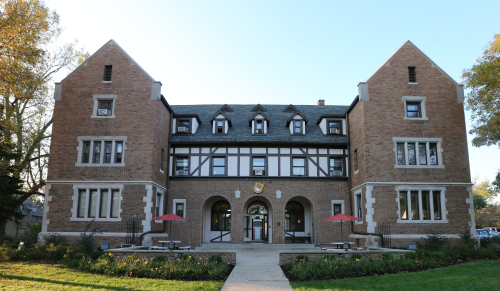 "CJ's leadership demonstrates that this is a fraternity for life," notes Charley Meyer '86. "Further, his advocacy for Greek life in general has helped strengthened the lives of DePauw students and alumni at the University."
A photo gallery is available here.
Back