DePauw 'Advocates and Changers' to be Featured at Indiana Civic Leadership Conference
November 8, 2013
DePauw University's sustainability efforts will be spotlighted at the second annual Indiana Civic Leadership Conference, which takes place next Friday, November 15. Anthony Baratta, assistant director of sustainability at DePauw and a 2010 graduate of the University, will lead a panel discussion titled "Students as Advocates and Changers." He'll be joined on the panel by a current student, Richard Walsh '14, and 2012 DePauw graduate Elizabeth (Massoth) White, both of whom have been heavily engaged in sustainability efforts on campus.
The panel will also include Indiana State Senator Jean Breaux and State Representative Jim Baird.
The conference, which features a keynote address by Purdue University President and former Indiana Governor Mitch Daniels,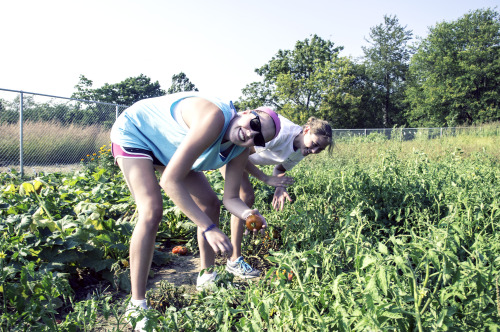 will take place at the Indiana Government Conference Center in downtown Indianapolis. (photo at left: members of DePauw's national champion women's basketball team help out at the campus farm)
Learn more about the event here.
You're also invited to visit the web page of DePauw's Office for Sustainability.
Back