Ryan McGuffey '01 Receives Jerome Holtzman Award for Documentary on 2003 Cubs
January 28, 2014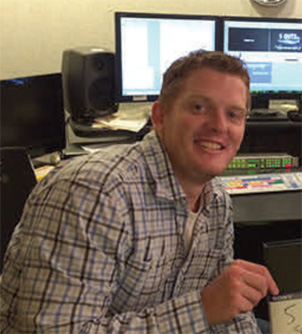 Ryan C. McGuffey, coordinating producer for Comcast SportsNet Chicago and 2001 graduate of DePauw University, has been presented with the Jerome Holtzman Award. McGuffey and his colleagues Sarah Lauch and David Kaplan were honored for 5 Outs, a documentary on the Chicago Cubs' 2003 season. They received the award over the weekend from the Chicago Baseball Museum.
"Sarah, Ryan and Kap put together a standout documentary with 5 Outs, capturing the roller-coaster tragic events of the '03 Cubs play-offs that is forever seared into the collective memory of Cubs fans and part of the franchise DNA," notes David Fletcher, president and founder of the Chicago Baseball Museum. "The Comcast team truly emulates the spirit of the Holtzman award, which is presented to the person(s) who has made the most significant contribution to the preservation of Chicago baseball history and tradition."
The program's title comes from the fact that the 2003 Cubs were five outs away from trip to the World Series with a 3-0 lead in the bottom of the eighth. Jerome Holtzman, who died in 2008, was a baseball sportswriter who served as the official historian for Major League Baseball.
A communication major at DePauw, Ryan McGuffey participated in football and track as an undergraduate.
Back