Ads in the Big Game are Less Than Super: Prof. Jeff McCall '76
January 28, 2014
Advertisers who are spending $4 million for each 30-second commercial airing during Sunday's Super Bowl "might as well be dumping those dollars in the Hudson River as they cross the bridge from Madison Avenue on the way to MetLife Stadium," writes Jeff McCall. In an op-ed published in the Detroit News and other newspapers, the professor of communication at DePauw University declares, "In spite of the hype and anticipation each year, the commercials often disappoint. As a group, Super Bowl commercials are overproduced and offbeat, have too many special effects and present little focus on the actual product."
Dr. McCall describes last year's spots as "creatively unimpressive and practically insignificant" that often convey "negative social messaging." According to the professor, "The companies wasting money to place ads in the Super Bowl broadcast apparently don't realize how hard it is to get Super Bowl viewers to focus on commercials. Many viewers are watching the big game at parties, in large groups or in bars. The noise and distractions in these settings make it quite difficult for viewers to follow the commercial story line or get the product's message. Data from the Nielsen media research firm confirm this recall problem. Surveys conducted after the 2013 Super Bowl asked viewers to reflect on the commercials aired. Of the commercials researched, viewers could identify the product's brand name less than 14 percent of the time. And this level of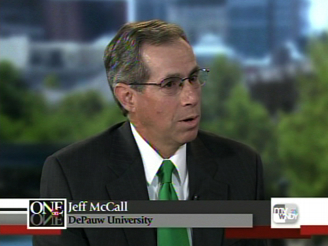 brand name recognition is worth $4 million per 30 seconds?"
Access the complete essay at the News' website.
A 1976 graduate of DePauw and a former journalist, Jeffrey M. McCall is author of Viewer Discretion Advised: Taking Control of Mass Media Influences and is faculty adviser to student radio station WGRE. The professor is regularly quoted in articles examining media matters and was cited in a January 25 Associated Press column on Super Bowl media coverage.
Source: Detroit News
Back