Reality TV Genre is "Cooling," Prof. Jeff McCall '76 Tells LA Times
February 16, 2014

"The reality genre is cooling for network TV," Jeffrey M. McCall, professor of communication at DePauw University, tells the Los Angeles Times. Dr. McCall is quoted in a story analyzing the cancellation of Simon Cowell's The X Factor, a show which was designed to take on juggernaut American Idol, another music-based reality show.
"Singing competition shows had a certain charm at first, but audiences surely can see by now that many of these acts are just too forced or demonstrate no more talent than can be found in a local pub or at the county fair," McCall tells the Times. He adds, "there is a ton of reality TV on various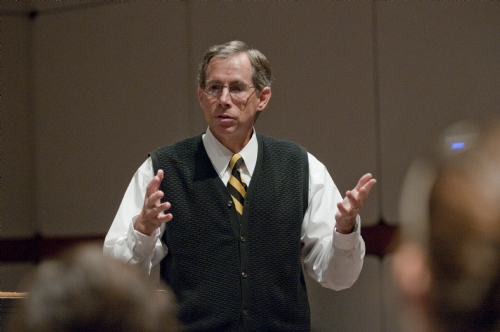 cable channels now, and the audience for reality programs is now splintered in many directions away from the big broadcast networks."
Scott Collins writes that Cowell "famously predicted that his own The X Factor on Fox would hammer Idol, the singing contest he left in a storm of publicity in 2010. And now? The hanging judge has fled the stage like a bad karaoke singer, leading many to wonder if the rapidly changing TV business has outrun even someone as savvy as Cowell."
Professor McCall says, "X Factor suffered from unrealistic expectations," McCall said. "Simon overpromised and underperformed."
Access the complete story at the Times' website.
A 1976 graduate of DePauw, Jeff McCall is a former journalist and author of Viewer Discretion Advised: Taking Control of Mass Media Influences. The professor has been quoted in stories published by more than 100 newspapers and has appeared twelve times on television's O'Reilly Factor. His recent media appearances include an op-ed published in yesterday's Indianapolis Star, a MarketWatch articleand an Associated Press column.
Source: Los Angeles Times
Back