Carolyn Mueller '09 Authors Lily: a True Story of Courage & the Joplin Tornado
March 6, 2014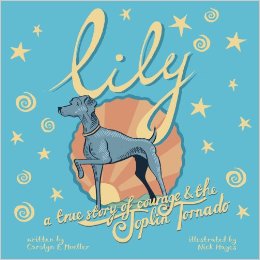 Carolyn Mueller, a 2009 graduate of DePauw University, is the author of a new children's book Lily: a True Story of Courage & the Joplin Tornado. Based in Joplin, Missouri, after a major tornado destroyed much of the town on May 22, 2011, "This is an uplifting tale about a special weimaraner search and rescue (S&R) dog, her handler, Tara Prosser, and their work in the aftermath of the disaster that hit their hometown," reports the Missourian.
Mueller, who works as a carnivore keeper at the St. Louis Zoo, previously authored Bubbles, the Dwarf Zebu.
"In addition to Lily's S&R work combing through the remains of Joplin looking for survivors, it turns out Lily is a survivor herself," reports the newspaper's Karen Cernich.
"Exactly one month before the F-5 tornado hit Joplin, Lily became so sick that she almost died, said Mueller. Veterinarians caring for her at Oklahoma State University discovered she has Addison's disease, which means her adrenal gland doesn't work properly. She requires monthly steroid injections to stay healthy. Lily was still on the mend when the Joplin tornado hit, but she didn't let that stop her from getting to work."
Mueller, who majored in English (writing) at DePauw, says, "I wanted to use Lily as an analogy for Joplin. Lily got sick, everyone thought she would die . . . but now she's going to be OK. And this terrible thing happened to their city. It's not completely recovered, but the city will be OK too. They are working together."
The Missouri Press Association has included Lily in its annual Reading Across Missouri project, "a statewide literacy effort to get kids reading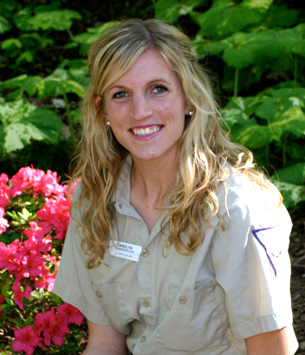 inside their newspaper," according to the story.
"Mueller, who grew up an animal lover and had dreamed since she was a little kid about working at the St. Louis Zoo, also plans to drive home the message about following your dreams. As soon as she was 16 years old, Mueller applied for a job at the zoo and was put to work in guest services. She painted kids' faces, sold balloons and answered telephones. During her summer breaks in college, Mueller worked as a counselor at the zoo's 'Camp Kangazoo.' In 2009, she graduated from DePauw University with a degree in creative writing and later, 'by happy accident,' was given the chance to work as a keeper in the Children's Zoo, where she trained sloths, porcupines, macaws and other creatures. That's where Mueller met and fell in love with Bubbles, the inspiration for her first book, published in 2012. With that one project, Mueller brought together her two passions -- animals and writing -- and she wants kids to know they can do it too.
"The dreams you have as a kid, they aren't silly," Mueller says.
You can make them come true."
Access the complete article at the newspaper's website.
Back