Walker Gilmer, "A Master English Professor," Dies at Age 82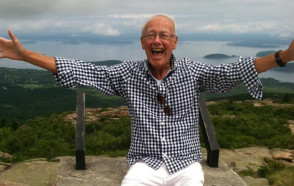 January 22, 2018
F. Walker Gilmer, professor emeritus of English at DePauw University, died last night. A member of the DePauw faculty from 1963 until his retirement in 1997, Dr. Gilmer remained a visible and vibrant personality on campus and throughout the community until his death. He was 82 years old.
Born July 11, 1935, Gilmer grew up in Libertyville, Illinois. He earned his bachelor's degree in English with Phi Beta Kappa honors from the University of Virginia. The son of two lawyers, Gilmer briefly attended Harvard Law School, but the lure of literature was too strong, and he left after one semester and enrolled in graduate school in English. He received both an M.A. in literature and Ph.D. in American literature from Northwestern University.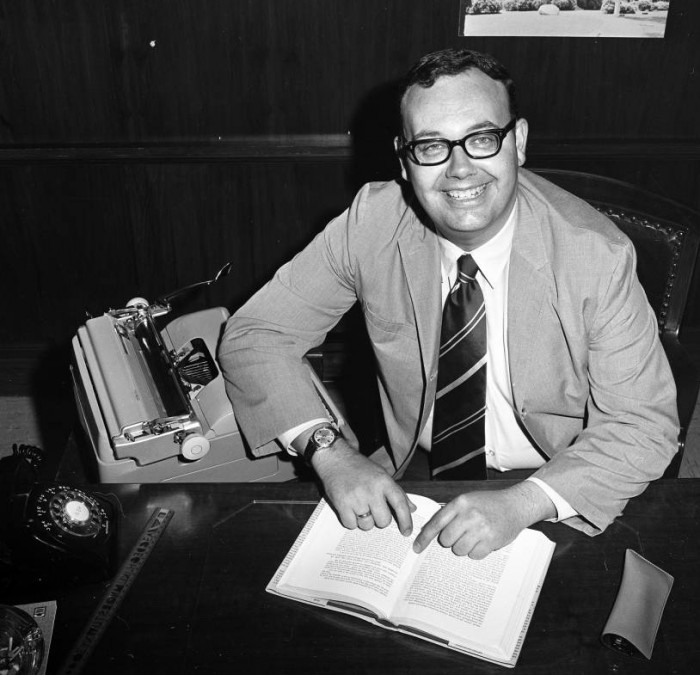 Gilmer joined the DePauw faculty in 1963 as assistant professor of English, and his career at the University included service as chairman of the department. (at left: Prof. Gilmer in 1970)
In 1977 Gilmer was named the KTK-Panhellenic Professor of the Year. He was awarded the Gold Key in 1987 and three years later was the recipient of the Fred C. Tucker Distinguished Career Award, which recognizes the achievements of those faculty members who have made notable contributions to DePauw by their commitments to students, teaching excellence, their chosen disciplines, and service to the University.
Among other things, Dr. Gilmer was the first professor at DePauw to teach a course in African-American literature and one of the first to shift from a lecture to a discussion-centered classroom. As a leader, he insisted upon democratic principles of governance as opposed to privilege and hierarchy. He believed that the classroom is a place for interchange of ideas and never a forum for a professor's opinions on politics, religion or morals.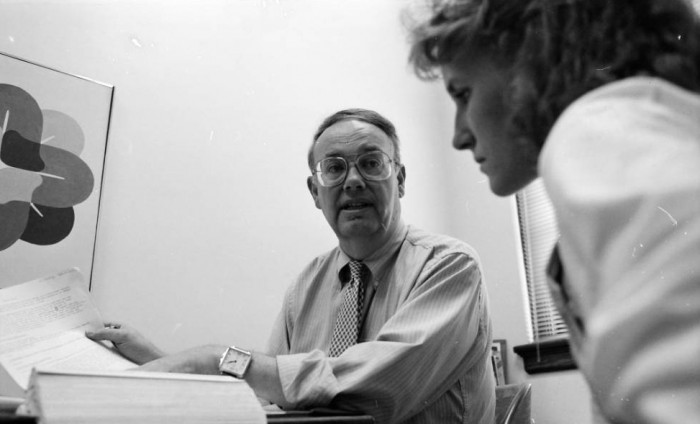 In 1970, Gilmer published Horace Liveright, Publisher of the Twenties, which led to television appearances and a New York Times book review. Van Allen Bradley, literary editor of the Chicago Daily News called the book "a superb portrait of a long-neglected literary figure." (at right: Gilmer with a student in 1988)
In 1989, members of the DePauw community were asked to state what the University's overriding goal should be by the year 2000. Dr. Gilmer offered, "To create a community of administrators, faculty, students and alumni dedicated to the goals of the liberal arts: that is, to questioning received ideas, to tolerance, and to morality in the classroom, on the campus, and in the larger world."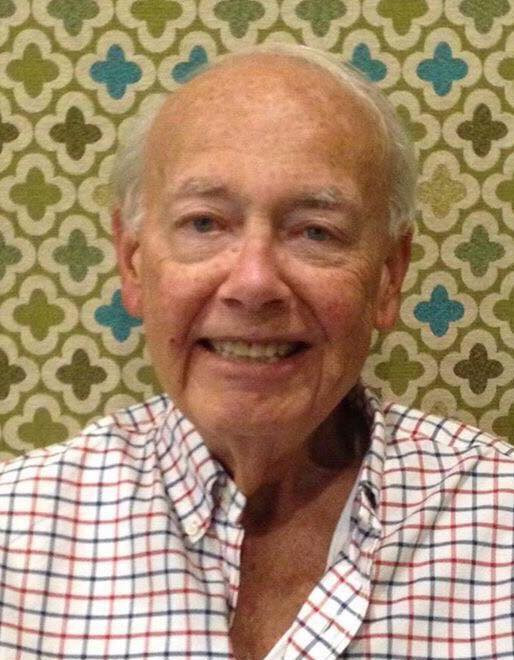 Walker Gilmer and his wife, Peggy, who died in June 2010 and also taught at DePauw, were longtime contributors to DePauw. The Peggy and Walker Gilmer Scholarship was established to thank the students and University that brought much meaning and pleasure to their lives. The Gilmer Scholarship allows promising students of greatest need, especially first-generation students, to enjoy the full richness of the DePauw education that the Gilmers contributed to and enjoyed for so many years. It also challenges his former students, colleagues and friends to match him in this gift to future Gilmer Scholars.
Dr. Gilmer was also a strong supporter of Greencastle and Putnam County organizations including the Putnam County Humane Society, Beyond Homeless, the Putnam County Non-Food Pantry, and the Hundred Men Who Care of Putnam County.
News of Professor Gilmer's death today has led to an outpouring of affection on social media's Facebook from those who knew and loved him.
Ellen Morrison Townsend '94 offered, "He was a master English professor. So many good books on the syllabus, such great delivery/lectures in class. I loved his voice, and his clear love of his work and dedication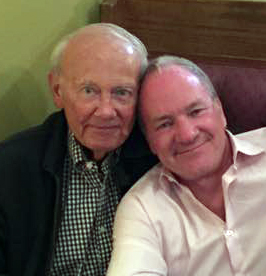 to his students.
Jim Cerone '86, stated, " A rarified teacher, I picture him sharing his enthusiasm with a smile and a twinkle. Leading us not to his interpretation, but cajoling us to think more deeply. Walker Gilmer launched thousands of imaginations."
Robert Mitchell '82 (pictured with Gilmer at right), assistant principal at the Beacon School in New York City, wrote, "I'm only as good as the people I've had in my life -- and Walker Gilmer truly was one of the most special. I will miss him!"
Says author Lisa Belcher Hamilton '80, "Dr. Gilmer taught me how to write. I still hear his voice saying, 'You need to unpack this a bit more before you move onto your next thought'."
Tom Chiarella, a former colleague of Gilmer's in the English department at DePauw, recalled, "He was a teacher, writer, bon vivant and theater enthusiast. He lived a heck of a life. I'll miss him."
Dennis Southerland '72 wrote, "Professor Gilmer's lectures on Gatsby are legendary. It was standing room only on those days."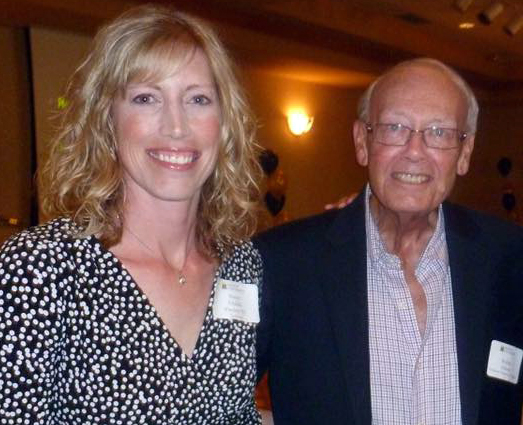 "He was one of the first professors I met at DePauw and we connected immediately because his son went to the College of Wooster and had my dad as a professor," Susan Guildin Fischer (pictured with the professor at left) noted. "He supported me as a student and a writer, and many years later attended my Hall of Fame banquet for DePauw volleyball. He was a wonderful teacher and full of life, and I will miss him deeply."
John Faulkner '80 wrote, "Walker was truly one of a kind. He touched so many lives while we were here at DePauw and he remained connected and committed to those friendships long after we departed DePauw. I had the opportunity to say goodbye to him on Saturday, telling him he was loved by so many, as evidenced by the outpouring of appreciation I have read today."
Dr. Gilmer himself said that at DePauw, he had "the chance to see and talk to students in class and on campus -- an opportunity I would never have had in a larger and more impersonal school. To know students and be with them and teach them -- that was the career I wished for most."
The professor's legacy will continue via the Peggy and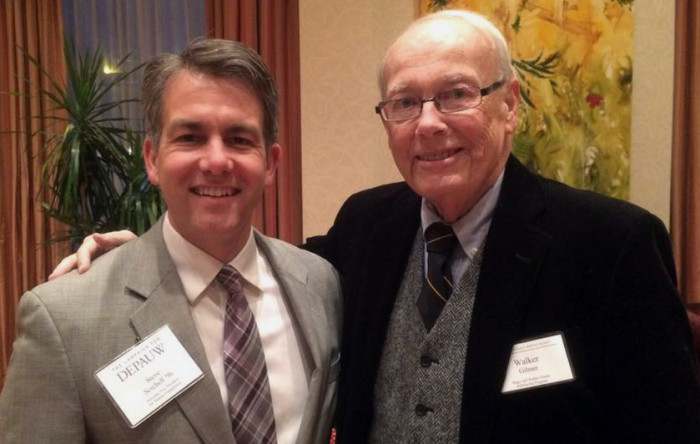 Walker Gilmer Scholarship and the Walker Gilmer Prize, which is awarded to the junior or senior English major at DePauw who is most outstanding in literature. (at right: Gilmer with Steve Setchell '96 interim vice president for development and alumni engagement, in April 2017)
Services will be held Thursday, February 8, at 2 p.m. at Saint Andrew's Episcopal Church in Greencastle, with a reception to follow at the Inn at DePauw (lower level) at 3:30 p.m. An obituary is available here.
Back