Jeff Quinn '86 Appointed Offensive Line Coach at Notre Dame
January 23, 2018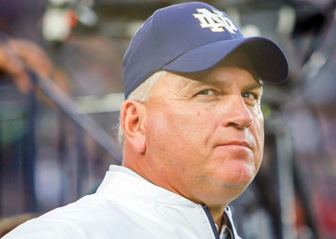 Jeff Quinn, who earned a master's degree from DePauw University and served as an assistant football coach for the Tigers in 1984 and 1985, was today named offensive line coach for the University of Notre Dame.
Quinn has been with the program for the past three seasons, most recently as senior offensive analyst. His resume includes serving as the head coach at the University at Buffalo from 2010-14; offensive coordinator and offensive line coach at Cincinnati (2007-2009); associate head coach and offensive coordinator at Central Michigan; and he spent 15 years as an assistant at Grand Valley State.
Notre Dame notes that Quinn has coached recent NFL All-Pro selections Jason Kelce, Joe Staley and Khalil Mack. In all, he's coached 12 offensive lineman who have played in the NFL and 22 who have earned All-America honors
"Jeff has helped produce NCAA, conference and school record-breaking offenses along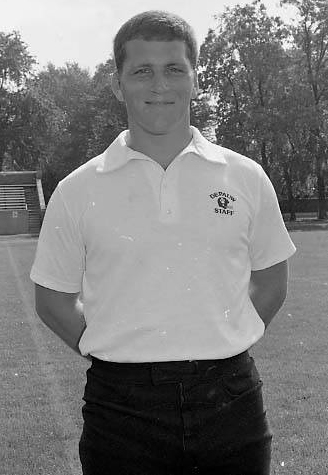 with multiple conference, bowl and national championships over his 34 years as a college football coach," said Brian Kelly, head football coach of the Fighting Irish. "He has an accomplished track record of not only identifying but also developing outstanding offensive linemen. Jeff also understands the high standard of offensive line play at Notre Dame, having been part of the offensive staff the last few years. He will continue to develop the culture necessary to produce college football's top offensive line." (at left: Quinn poses at DePauw's Blackstock Stadium in the fall of 1985)
"There's a tremendous legacy of coaching the offensive line at Notre Dame, from Brian Boulac to Merv Johnson to Joe Moore to Harry Hiestand," Quinn notes. "As each of those men will tell you, the focus of this job has been and always will be about the best interests of the players in the offensive line room, both on and off the field. I'm simply honored to now serve in this role."
Quinn was named a finalist for the 2009 Broyles Award, which is given to the nation's top assistant coach.
Read more here.
Back