Work of Prof. Georgette Zirbes '62 On Display at Peeler Art Center, March 10 - April 9
March 2, 2017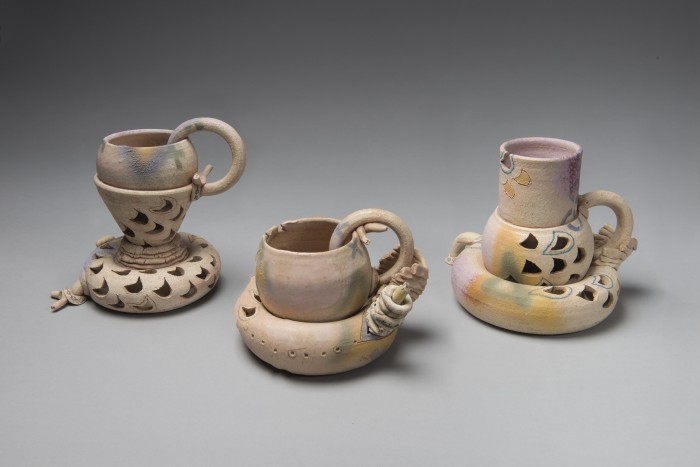 The work of DePauw University alumna Georgette Zirbes '62 will be on display at the Richard E. Peeler Art Center March 10 through April 9. "Conversations: A Retrospective Exhibition" is presented free of charge and is open to the public. (at right: Donut Cup Conversations, 1983, Ann Arbor Studio, Michigan; 4.5 to 6.5 inches x 5 to 8 inches x 5 to 8 inches deep, ceramics pedestal piece, 3 cups, 2 parts each)
Zirbes is the Arthur F. Thurnau Professor Emerita in the Stamps School of Art and Design at the University of Michigan. She has been a recipient of a National Endowment for the Arts Award for work in mixed media and has received numerous research grants from the University of Michigan along with a Distinguished Alumni Achievement Award for Creative and Performing Arts from DePauw.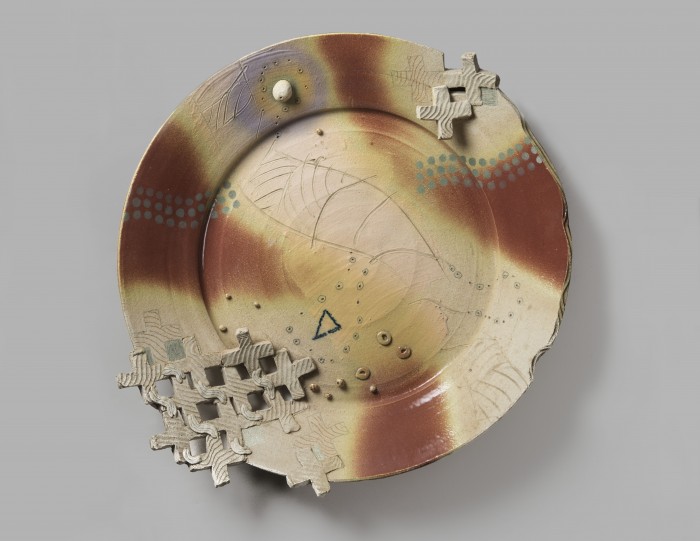 Her recent research and creative work has been fundamentally influenced by connections and experiences in the international community of artists who work with clay. Since 1990, Professor Zirbes has participated in numerous international workshops/symposia/residencies, where artists are invited to live and work together for a period of approximately one month. Exchange of ideas, work processes, and cultural experiences are ongoing during this intense period that culminates in a major exhibition of both individual and collaborative work. These experiences continue to affect her work images and intentions as well as attitudes about the working process in ways that are powerful and sometimes magical. (at left: XXX Plate Conversations, circa 1980s, Ann Arbor Studio, Michigan; 24 inches x 24 inches x 4 inches high, ceramics wall piece)
Zirbes received a B.A. in 1962 from DePauw and an M.A. in 1964 from Ohio State University. She was a special student in 1964-65 at Kyoto City College of Fine Arts, Kyoto, Japan, and received a Fulbright Junior Research Grant for study in Japan, where she lived and worked for three years. Professor Zirbes also received a Fulbright Senior Research Grant for work in the former Czechoslovakia.
The galleries at the Peeler Art Center are open Monday-Friday 10 a.m. – 4 p.m.; Saturday 11 a.m. - 5 p.m.; and Sunday 1 – 5 p.m., and are closed during University breaks and holidays. Click here for more information about special events associated with this exhibition.
Back