Two Juniors Win National Science Award
April 17, 2012
Junior Tyler L. Perfitt's road to a Goldwater Scholarship wasn't a direct route. The prestigious award is difficult to come by, even more so if you don't think you want one, and flat-out impossible to win if you don't know it exists.
Perfitt hadn't even heard of the Goldwater until last year, when Catherine "Catie" M. Baker '12, a fellow member of DePauw's swimming and diving team, received one for her work in computer science. At the time, Perfitt, a biology and Spanish double major, wasn't sure that a career in research was for him, but a summer internship researching brain cancer cells changed all that.
"It opened me up to the opportunities of neuroscience and what research was really like," Perfitt says.
Perfitt returned to DePauw last fall with a new take on his future. He began an application for a Goldwater Scholarship, drawing on personal experience to make the case that he was a serious candidate for the award.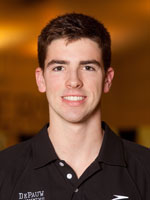 "My great-aunt suffered through Alzheimer's disease until her death during my freshman year," Perfitt, left, says. "Because of that, I already had a strong understanding of the disease and how it is currently being treated by delaying the onset of symptoms so that death occurs before dementia sets in.
"While the external symptoms of Alzheimer's do not appear until later in life, cortical thinning of the brain occurs as early as age 30 for at-risk individuals. I decided that my proposed research should focus on observing changes in these at-risk individuals using MRI scanning, followed by postmortem tissue sampling and studying to pinpoint markers that could reveal when and where the mechanisms of Alzheimer's disease begin."
The Barry M. Goldwater Scholarship and Excellence in Education Program was established by Congress in 1986 to honor Senator Barry M. Goldwater, who served his country for 56 years as a soldier and statesman. The purpose of the foundation is to provide a continuing source of highly qualified scientists, mathematicians and engineers by awarding scholarships to college students who intend to pursue careers in these fields.
This spring, the Goldwater program awarded 282 scholarships for the 2012-13 academic year – which will cover the cost of tuition, fees, books, and room and board up to a maximum of $7,500 per year – to college sophomores and juniors from the United States.
With so few Goldwater Scholarships awarded, it's quite an accomplishment to receive one, but Perfitt wasn't DePauw's only Goldwater recipient this year. Junior Bradley P. Wethington, a computer science and economics double major as well as a member of the Science Research Fellows (SRF) and Julian Scholars Program for first-generation college students, joined him with the honor.
Wethington came to DePauw with a clear plan of what he intended to do. He quickly dove into software design with Professor of Computer Science David A. Berque, working on a project intended to reduce repetitive strain injuries, and he even applied for a Goldwater during his sophomore year. When he didn't win, he set out to strengthen his application.
"I wanted to make sure my next application gave me the best possible chance to win," Wethington says. "Through my internship at The Aerospace Corporation, a federally funded research and development center that works closely with the U.S. Air Force in Segundo, Calif., I focused on quality assurance to make sure software is working the way it was intended to work. This is what I wrote my essay on this year. I talked about proposed research I would like to do that would ensure software is working properly to be used in critical situations."
Although their awards are remarkable personal achievements, Perfitt and Wethington say they owe a lot to the help they received from both within their departments and across the faculty. After hearing that he'd won, Wethington relayed the news first to Berque, then the other advisers who helped him during the process.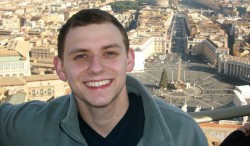 "I cannot give enough credit to Dave Berque," Wethington, right, says. "He was there pushing me along and helping to keep me motivated as we worked through countless amounts of drafts."
"It was a rewarding experience, and it helped put into perspective what really goes into winning national awards," he adds. "I am honored and humbled to be a Goldwater Scholar, but I know I could not have done it without the help of Dave and other faculty members. The faculty at DePauw is truly special."
"The faculty's help was incredibly important," Perfitt says. "[Assistant Professor of Computer Science] Khadija J. Stewart, adviser for the Goldwater Scholarship, was incredibly motivating for me. If it wasn't for her, I would not have completed the application, and I wouldn't have realized I had such a passion for biological research."
Perfitt and Wethington are DePauw's fifth and sixth recipients of the Goldwater in the past four years, joining previous winners Baker, Alexander P. Breitinger '09, Kathleen F. Mittendorf '10 and Nicole R. Stone '09.
Stewart, who worked with Baker on computer networking research, understands the academic momentum the Goldwater can build for undergraduate students in the sciences. Baker and Mittendorf both received a rarer National Science Foundation Graduate Fellowship, which provides a three-year annual stipend of $30,000 along with a $10,500 cost of education allowance for graduate school fees.
Having taken over as the University's Goldwater adviser from Professor of Computer Science Gloria C. Townsend, who oversaw three winners in 2008, Stewart believes that two of DePauw's greatest strengths play a large role in receiving a Goldwater Scholarship.
"I think that DePauw can definitely maintain the success it has had with Goldwater," Stewart says. "Research experience is one of the main criteria in the Goldwater selection process, and I think that the quality of our students, combined with the research opportunities that DePauw offers, creates a winning combination."
Back