Research by Prof. Pascal Lafontant and Six Students in Comparative Biochemistry and Physiology
June 25, 2014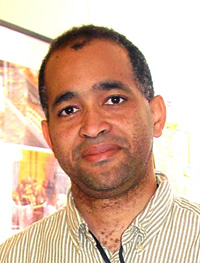 A new research paper authored by Pascal J. Lafontant, associate professor of biology at DePauw University, and six of his students is published in the latest issue (June 2013, Volume 163) of Comparative Biochemistry and Physiology. The contribution is titled "Cardiac repair and regenerative potential in the goldfish (Carassius auratus) heart."
The undergraduates who collaborated with Dr. Lafontant on the work were Jamie Grivas '10, Maria Haag '13, Adedoyin Johnson '13, Trina Manalo '14, Tanmoy Das '12 and current junior Julia Roell. Benjamin Golden '10 and junior Adam May are acknowledged for technical contribution to the research.
This study extends previously published work involving the professor and his students, including a paper in the Anatomical Record in 2012, and a 2013 entry in PLOS ONE. An abstract is available by clicking here.
Learn more in this previous feature.
Back