Mike Protogere '83 "Isn't Your Typical Oil Guy"
May 2, 2017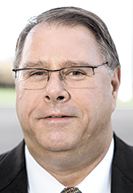 Mike Protogere "isn't your typical oil guy," according to the Indianapolis Business Journal. The publication's latest issue looks at the 1983 DePauw graduate and his company, D-A Lubricant, the first presenting sponsor of the Indianapolis 500.
"The Carmel resident graduated from North Central High School before earning a zoology degree from DePauw University," reports Anthony Schoettle. "He owned and ran an industrial catering company, developed condominiums in the Florida panhandle, and had a brief career as a stockbroker. After he realized the financial industry wasn't for him, Protogere said, he started looking for a business to run."
Protogere recalls, "D-A had a considerable amount of assets and the price was right," he said. "The assets were greater than the purchase price. And another big key: All five managers who were already here agreed to stay."
D-A is a manufacturer of oil, grease, antifreeze and other industrial products, and, as owner, Protogere "has shifted it into overdrive and punched the gas," IBJ states. "Now, Protogere is fueling D-A's diversification and marketing with IndyCar Series sponsorships -- and even made its new PennGrade Motor Oil brand the first presenting sponsor in the Indianapolis 500's 100-plus-year history. In the year since the company signed the sponsorship deal, the brand has gone from a virtual unknown in IndyCar circles to one of the series' most active sponsors, said Ken Ungar, founder of locally based Charge, a sports business consultancy that represents Honda, one of the IndyCar Series' biggest partners."
Read more here.
Source: Indianapolis Business Journal
Back