Prof. Jeff Hansen's ('86) 'Sweet and Savory Science' Course Featured in Magazine
September 20, 2012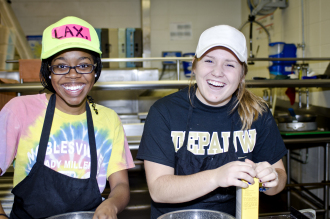 College classes with titles like "The Chemistry of Cooking ... have been popping up around the country, bolstered by the success of cooking shows like Alton Brown's Good Eats and the popularity of the so-called molecular gastronomy movement," reports Chemical & Engineering News. "Although they approach the topic differently, the professors who teach kitchen chemistry are unified in their determination to make science relevant to students who normally shy away from the discipline."
Lauren K. Wolf writes, "Jeffrey A. Hansen, an organic chemist at DePauw University, in Indiana, teaches his 'Sweet and Savory Science' course in a campus kitchen to circumvent the cooking-space issue. That's possible, he tells C&EN, because the small class takes place during DePauw's three-week-long winter semester, when fewer students are on campus and fewer kitchens are in use. Hansen attracts students to the class, not with famous chefs, but with the promise of lessons on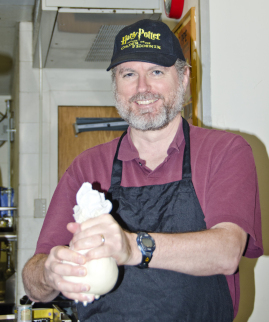 knife skills and with cooking competitions. He breaks the class into teams, which have to prepare a menu based on an assigned theme. The students have to explain the chemistry involved in their meals and then serve them to a panel of faculty and staff judges."
According to Dr. Hansen, "The more they understand the chemistry, the more control they'll have over the final product. I want them to come out of the class with a greater comfort level in the kitchen."
Chemical & Engineering News is a weekly magazine published by the American Chemical Society. The piece, "Kitchen Chemistry Classes Take Off" --- which also cites classes at MIT and Harvard -- is published in the September 3 issue and is available online here.
Jeff Hansen is a professor of chemistry and biochemistry at DePauw and 1986 graduate of the University. Learn more in a previous piece and another feature article. Also available is a photo gallery.
Source: Chemical & Engineering News
Back