WGRE Student Broadcasters Win Six Awards, Including Three First Place Prizes
April 17, 2012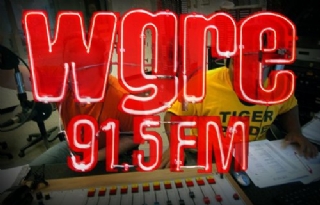 Projects by ten DePauw University student broadcasters were honored with six prizes at two awards ceremonies in Indianapolis Saturday. The works, which were created for WGRE, won awards from the Indiana Associated Press Broadcasters Association, which held its spring meeting at the Sheraton Hotel City Centre, and by the Society of Professional Journalists, which held its Region 5 spring conference at the Marriott Downtown.
In the AP competition, WGRE collected three first place awards in the local radio division. Ashley Isaac, Taylor Buchanan, Kelly Reeves and Kelsey Dentinger shared the award for "Best Feature"; Ryan Foutty and Scott White took the top honor for sports play-by-play; and Brian Alkire, Anna Olson, Kelsey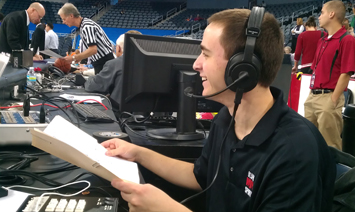 Christensen and Jordan Davis were first-place winners for "best enterprise story.
In the SPJ contest, Isaac, Buchanan, Reeves and Dentinger were second-place winners in the "Radio In-Depth Reporting" category; Foutty and White were second in "Radio Sports Reporting"; and Alkire, Olson, Christensen and Davis were third for "Radio In-Depth Reporting." (photo at left: Ryan Foutty)
The SPJ Region 5 competition included colleges of all sizes, including the University of Kentucky and the University of Illinois at Urbana-Champaign. The Society of Professional Journalists, which was founded at DePauw University in 1909 as Sigma Delta Chi, is today the nation's most broad-based journalism organization.
A complete listing of the AP radio winners is available here, while
the SPJ honorees can be viewed here.
One of America's first non-commercial, educational stations, WGRE signed on the air on April 28, 1949 and today broadcasts 24 hours a day when school is in session. To listen to WGRE live online, click here or visit the station's website.
Learn about the station's philanthropic efforts in this recent article.
Back