Political Conventions More Show Than Substance, Prof. Jeff McCall '76 Tells LA Times
August 26, 2012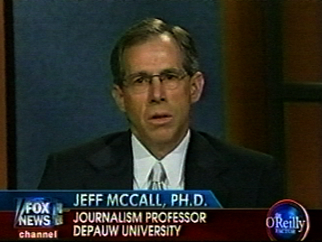 "There is so little news being made now at the conventions," Jeffrey M. McCall, professor of communication at DePauw University, tells the Los Angeles Times. Dr. McCall is quoted in a story by Scott Collins which also appears in other newspapers across the nation.
"The conventions have no real deliberations on platform issues and the VP picks are all made well in advance and have already been introduced to the public," McCall adds.
The article notes that conventions, which were once covered wall-to-wall by the "big three" networks, will appear for only

an hour each night this time around. The Republican National Convention will take place this week, while Democrats will gather next week.
"The main, real value for voters in watching the conventions is that they can see the candidates and hear their pitches in one place, without having to follow campaign stump speeches over many days of news coverage," McCall tells the Times. "Another benefit is for voters to see up and coming party leaders who might be influential
on the political landscape in years to come."
Read the full piece at the newspaper's website (a subscription may be required).
A 1976 graduate of DePauw and faculty adviser to student radio station WGRE, Jeff McCall is a former journalist and author of the book, Viewer Discretion Advised: Taking Control of Mass Media Influences. The professor wrote an op-ed which was published in yesterday's Indianapolis Star and recently spoke to the Atlanta Journal-Constitution about the resignation of CNN's worldwide president.
Source: Los Angeles Times
Back