"Linguistic Bomb" on Super Bowl Telecast Worthy of FCC Attention: Prof. Jeff McCall '76
February 19, 2013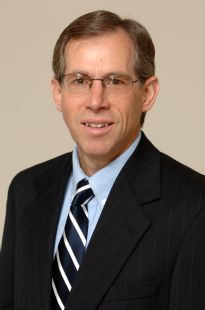 "Another CBS Super Bowl and another broadcast indecency mess," begins an Indianapolis Star column by Jeffrey M. McCall. The professor of communication at DePauw University notes that an expletive uttered by Baltimore Ravens quarterback Joe Flacco after the game was captured by the microphones of the same network that televised Janet Jackson's "wardrobe malfunction" in 2004.
"Both situations were unnecessary and preventable," Dr. McCall argues. "An intern in the broadcast control room could easily execute the delay technology and dump the offending material before it aired to more than 100 million people. The viewers can conclude that CBS is either totally inept with technology or that the CBS management just doesn't care. Given the razzmatazz exhibited elsewhere in the CBS Super Bowl production, the latter is the likely conclusion."
He adds, "On one level, it's no big deal that a football player would use such language or that a sideline microphone would pick up bad words. What is worth noting, however, is that a major broadcast network, with full technical capabilities, refuses to ensure that the most unifying television event in our nation can be viewable for a wide cross-section of viewers. This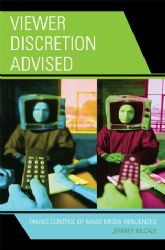 is the Super Bowl, not pro wrestling on a fringe cable channel with a narrow audience."
The professor continues, "Now we wait to see if the Federal Communications Commission will do anything about this latest fiasco ... The FCC has done nothing about indecency in more than four years, sitting on hundreds of thousands of complaints that have piled up."
McCall concludes, "Ultimately, a scattered bad word on television doesn't ruin the nation, but the continued negligence of major networks and the FCC with regard to the law and cultural impact of inappropriate content does eventually diminish society. Coarse language on television degrades us. That's why F-bombs are, indeed, linguistic bombs, and not acceptable in settings such as education and business (and sports broadcasts into family living rooms?) where basic manners are expected."
Access the complete column at College News.org.
The author of Viewer Discretion Advised: Taking Control of Mass Media Influences, Jeff McCall is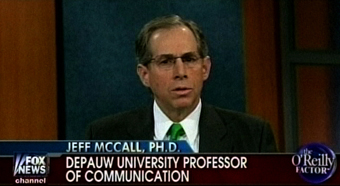 regularly called upon by news outlets to discuss media matters. He recently discussed coverage of the Grammy Awards with the Christian Science Monitor and appeared on the January 25 edition of Fox News Channel's O'Reilly Factor. He was also quoted in a recent Hollywood Reporter story.
Professor McCall is a 1976 graduate of DePauw and serves as faculty adviser of student radio station WGRE, where he worked during his days as an undergraduate.
Source: Indianapolis Star
Back