Indiana Repertory Theatre Dramaturg Richard J Roberts '81 is Profiled
April 5, 2013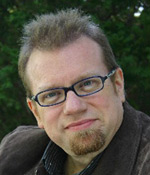 "Richard J Roberts is well aware that the specialty he's practiced for Indiana Repertory Theatre for 15 years is obscure to the general public," begins an Indianapolis Star feature on the 1981 DePauw University graduate. "But dramaturgy, the research and development of stage plays, has a clear-cut effect on how successful a theatergoer's experience can be."
Roberts explains, "A dramaturg's job is to create a bridge between the play and the audience or between the play and the artist."
Jay Harvey writes, "Here's how it works: First contact with the production team -- the director and the sound, lighting, costume and set designers -- comes about six months before the production hits the stage. Everyone shares ideas about the world of the play and how to bring it alive. Once rehearsals are under way, the show's director takes on most of the responsibility for interpretation ... After his material is ironed out with the production team, Roberts can direct his attention to preparing material for study guides (with staffer Milicent Wright) and for post-performance talks, which are often conducted by other staff members and may turn up surprise perspectives."
Roberts, who was a Rector Scholar and music education major at DePauw and was active in theatre

productions, is about to stage his 100th production as IRT dramaturg, A Midsummer Night's Dream, which opens April 10.
Access the piece at IndyStar.com.
Also available is this previous summary.
Back