Local Students Take DePauw Stage in 'Spring Festival of Shakespeare', May 3 & 4
April 25, 2013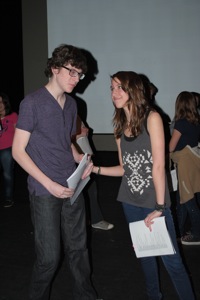 Local teenagers are empowered by the height and breadth of Shakespeare's emotion and language and captivated by his characters and stories as DePauw Theatre presents its "Spring Spectacle of Shakespeare." Performed and produced by students from Cloverdale, Greencastle, North Putnam and South Putnam middle and high schools, the Spectacle will take place on May 3 and 4 at DePauw.
The performances mark the culmination of a course taught by Amy Hayes, part-time professor of communication and theatre. It prepares DePauw students to do Shakespeare with local high school and middle school students. Part classroom activity and part in-school practicum, the course stresses the visceral, emotional, and intellectual power of experiencing Shakespeare's language physically and vocally. The course culminates in the upcoming festival of Shakespeare's plays performed by local students at DePauw.
"We, of course, want it to be rewarding for the younger students, but we have been overwhelmed by how life changing this process has been for the DePauw students, too," adds Hayes.
"The experience of working on and actually doing a Shakespeare play is much different than studying and writing about a Shakespeare play. Doing, directing, playing characters and telling the stories makes it a part of you that writing a paper could never do," notes the professor. "Shakespeare's epic language, stories and characters equip teenagers with the emotional power to deal with the highs and lows of adolescence. From developing close relationships with the University students who shepherd them to learning to trust their own voices and bodies, the program's practicum and curriculum encourages students to fully immerse themselves in Shakespeare's universal themes of love, death, revenge and human nature."
Since DePauw students are working alongside local youth for an entire semester, the Spring Spectacle program provides the avenue to forge positive and lasting connections between the Greencastle and DePauw communities.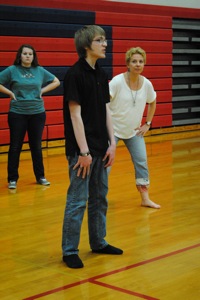 "Art does this," Hayes says. "Because when you're creating something out of nothing, it builds things. I hope that the audience is as amazed by these kids. We are every day. We're not doing Shakespeare for young people; we're doing Shakespeare with young people."
The "Spring Spectacle of Shakespeare" opens on Friday, May 3, with two 90-minute performances. At 6 p.m. Greencastle students perform Much Ado About Nothing followed by Cloverdale students at 8 p.m. performing The Tempest. On May 4 at 6 p.m. Henry V features students from South Putnam, and at 8 p.m. North Putman students perform Julius Caesar. All of the programs will be staged in Moore Theatre, located in the Judson and Joyce Green Center for the Performing Arts.
Tickets are $3 for students and $6 for adults and are available for purchase at the Green Center's box office or online here.
Back