Playwright Christian Hamilton '50, Who Taught at DePauw in the 1950s, Dies at Age 86
March 6, 2014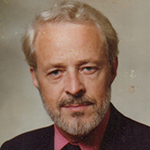 E. Christian Hamilton Jr., a 1950 graduate of DePauw who taught at his alma mater and several other colleges, died February 17 at the Levine-Dickson Hospice House in Huntersville, North Carolina. He was 86 years old.
A playwright and lyricist, theater director, English and theatre teacher, and actor, Chris Hamilton was born in Greencastle. He majored in speech (communication) at DePauw and continued his studies at Indiana University. Hamilton was an assistant in DePauw's speech department in 1952-53 and was an instructor from 1954-56. He also taught at IU, Rutgers University and Newberry College.
Hamilton's plays and musicals were staged in New York, Los Angeles, Washington, D.C. and other cities, and he wrote radio dramas for National Public Radio's NPR Playhouse.
An online obituary is available here.
Back