Ken Owen '82 to Moderate Panel at 2014 O'Bannon Institute for Community Service
April 9, 2014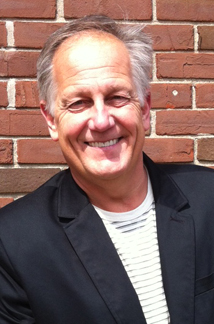 Ken Owen, executive director of media relations at DePauw and 1982 graduate of the University, will moderate a panel discussion at the eleventh annual O'Bannon Institute for Community Service. The event takes place at Ivy Tech - Bloomington April 23-25 and will feature an address by General Colin L. Powell, former U.S. Secretary of State and Defense Secretary, on the evening of April 24.
Owen will moderate a session on Friday, April 25, titled "Do Something Personally, Do Something Locally." He'll be joined by panelists Julio Alonso, executive director and CEO of the Hoosier Hills Food Bank; Phillip Anderson, servant leadership consultant and founder of ReThink!, Specializing in Community and Leadership Development; James Farmer, assistant professor, department of recreation, park, and tourism studies, Indiana University; Katharine Hibler Ivy Tech student and AmeriCorps volunteer for FEMA disaster relief; and Ellen Michel, who has served on the boards of Bloomingfoods, Local Growers Guild, and was recently involved in My Local Indiana food project.
Owen, a former television news anchor and reporter, has been called upon to moderate panels for the O'Bannon Institute
in 2011 and 2012. The event is an annual opportunity for the community to come together to discuss topics related to nonprofits, education and political and civic service. It is named to honor the legacy of the late Governor Frank O'Bannon, in recognition of the role he played in the formation of Indiana's community college system and in commemoration of his lifetime commitment to community service.
Admission to Friday's sessions is free with a contribution of two cans of food per person or a free-will monetary donation (made at the door) to Hoosier Hills Food Bank. Reservations are required, and a sack lunch is provided. To make reservations call Tina Phelps at (812) 330-6001 or e-mail tphelps@ivytech.edu.
Learn more here.
Ken Owen returned to DePauw in 2001 after two decades in TV news. Along with his responsibilities to raise the University's external visibility, he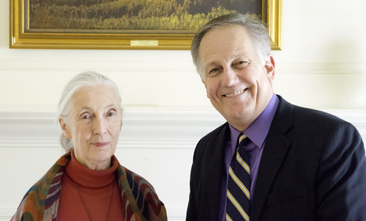 coordinates the Timothy and Sharon Ubben Lecture Series and the annual Monon Bell telecast. His efforts to make pieces of DePauw's past more relevant and accessible include the restoration of a 1941 admission film, and he has created "Monon Memories" of every football game between DePauw and Wabash College for the Monon Bell since the rivalry began in 1890. The video vignettes were the subject of features in the Chronicle of Higher Education and during HDNet's telecast of the 115th Monon Bell Classic in November 2008. (photo: Owen with primatologist and United Nations Messenger of Peace Jane Goodall before her April 17, 2013 Ubben Lecture at DePauw)
A communication major and Rector Scholar at DePauw, where he delivered broadcasts over WGRE, Owen
has taught journalism at Indiana University - Purdue University at Indianapolis. He is a member of the Indianapolis Public Relations Society and is past chair of the Annapolis Group communications committee.
Gen. Powell came to DePauw to deliver an Ubben Lecture on November 2, 1994. A summary of the speech is available here.
Back