Prof. Seth Friedman Examines "Misdirection Films" in New Book, Are You Watching Closely?
September 4, 2017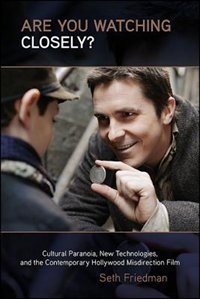 Seth Friedman, associate professor of communication and theatre at DePauw University, is the author of Are You Watching Closely?: Cultural Paranoia, New Technologies, and the Contemporary Hollywood Misdirection Film. The book is being published this month by SUNY Press.
A synopsis states that Friedman's work "is the first book to explore the recent spate of 'misdirection films,' a previously unidentified Hollywood genre characterized by narratives that inspire viewers to reinterpret them retrospectively. Since 1990, Hollywood has backed more of these films than ever before, many of which, including The Sixth Sense (1999), A Beautiful Mind (2001), and Inception (2010), were both commercial and critical successes. Seth Friedman examines this genre in its sociocultural, industrial, and technological contexts to explain why it has become more attractive to producers and audiences."
Friedman serves as director of DePauw's Film Studies program.
Learn more, and order the book, at the publisher's website.
Back