'Professor/Entrepreneur' Dave Berque Featured in Science
September 15, 2012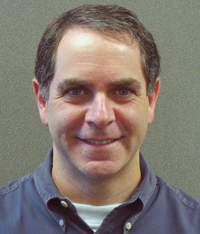 "My computer science classes are better because I can bring in my own experiences from my work," DePauw University Professor Dave Berque tells Science. Quoted in an article headlined "Finding Balance: The Professor/Entrepreneur," Dr. Berque's work at DePauw led to the development of pen-based technology, now known as DyKnow Vision, that is being used in classrooms around the nation. In Berque's DePauw classes, "This influences students to think about innovation and entrepreneurship as career paths," he says.
Alaina Levine writes that Berque "draws on examples from his software company, and ultimately, he says, 'I serve as a more informed career counselor.' His professional advice is augmented with contacts in the business world who can arrange for pupils to acquire internships and jobs, or to pursue other kinds of research collaborations.' "
Becoming an entrepreneur, the professor notes, is similar to the "textbook publication model that has been long-accepted in academia, as a way of blending scholarly and commercial activities."
Access the full text at the journal's website.
Science is a publication of the American Association for the Advancement of Science. Founded in 1848, AAAS serves
some 261 affiliated societies and academies of science. Science has the largest paid circulation of any peer-reviewed general science journal in the world, with an estimated total readership of one million.
Dave Berque, professor of computer science at DePauw, received the 2007 Mira Techpoint Award for "Education Contribution in Technology - Individual" for his efforts to create the aforementioned software. The professor was recognized in 1997 as the Carnegie Foundation for the Advancement of Teaching Outstanding Baccalaureate Colleges United States Professor of the Year.
A 1996 CNN report featuring Dr. Berque is embedded below.
Source: Science
Back