Brittni Crofts '13 Will Teach English in Vietnam with Fulbright Award
May 8, 2013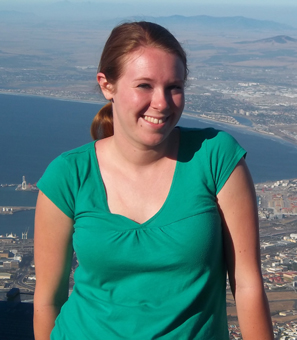 DePauw University senior Brittni E. Crofts is the recipient of an English Teaching Assistantship from the Fulbright U.S. Student Program competition and will spend the 2013-14 academic year teaching English in Vietnam.
Established in 1946 and sponsored by the U.S. Department of State, the Fulbright U.S. Student Program competition aims to increase mutual understanding among nations through educational and cultural exchange while serving as a catalyst for long-term leadership development.
Crofts is the fifth member of the DePauw community to be announced as a Fulbright winner this spring. Three of the other Fulbright recipients are also DePauw seniors: Katlin "Katie" V. Kraska has been awarded a Fulbright U.S. Student scholarship and will conduct research and study in Indonesia during the upcoming academic year. Kendall C. Quisenberry will use an English Teaching Assistantship to teach in Malaysia, while an ETA awarded to David Tykvart will send him to the Czech Republic to teach English. Ian B. Davidson, a professor in the School of Music at Texas State University and 1980 graduate of DePauw University, will visit Tumaini University Makumira in Tanzania two times as a visiting Fulbright Scholar.

A double major in conflict studies and anthropology, Crofts aims to close the " global achievement gap" through her Fulbright experience. "Vietnam, a nation with widening disparities between rich and poor as well as a corresponding divide in educational opportunities, is an ideal place to continue my work for educational equality as well as to develop my cross-cultural communication skills," the senior wrote in her application for the award.
Crofts serves as a writing and a speaking tutor at DePauw and has studied in Greece and South Africa. She recalls, "In the icy winter of 2011, I traveled nineteen hours from my small town in Indiana to Johannesburg, South Africa to study the legacy of apartheid and the residual inequalities that still exist. As we walked through a shantytown, we came to a daycare with a dozen children playing gleefully outside. How could kids seem so happy yet live in such abject poverty? After noticing that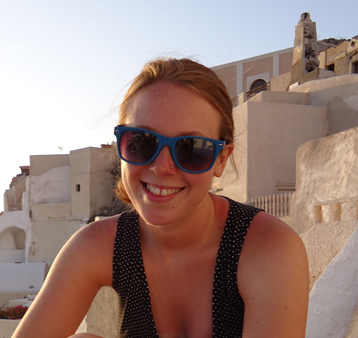 I had withdrawn from the group, my professor soon called me aside and challenged me: 'What are you going to do?' 'I don't know…' I whispered. A few days later he pressed again, explaining to me that the same problems exist in the U.S. Kids aren't in school; they don't have toys to play with or new clothes to wear; they go to bed hungry. 'What are you going to do?' At that moment, I decided that I would spend my life working to close the growing income gap between our world's rich and poor."
Her Fulbright application continues, "This epiphany in Cape Town emerged after many years of searching for a way to express my passion for helping others. I developed a love for learning about other cultures through volunteering with the Girl Scouts and my church as well as taking countless social studies classes. In college, I became an anthropology and conflict studies double major which has enabled me to study not only the intersection of economics and conflict but also the people affected by these conflicts. I have taken over twenty classes on the politics, culture, economics, history, and languages of Asia, Africa, and Europe. I have also completed two internships with Teach For America, gaining insight into socio-economic issues right here at home, while also immersing myself in the culture of education. All of my studies and internships have been in preparation for a career as an applied anthropologist working on issues of economic development."
A member of Phi Beta Kappa, Crofts states, "My interest in Vietnam originated in high school with a passionate teacher but solidified when I had my first Vietnamese suitemate my freshman year of college. It was then that I began to contemplate the social and economic implications of the Vietnam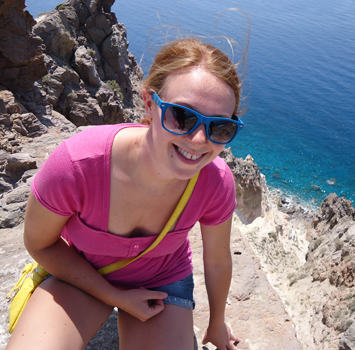 War, which has shaped generations. With an ETA in Vietnam, I will represent the American people as world citizens, while also working to understand the effects of Vietnam's recent market reforms by talking to both students and parents in my future community. I believe that one way to begin closing the income gap and bring an end to socio-economic disparities is to develop mutual understanding, a difficult task which will come only through education and open conversation. So that's what I'm going to do."
The Fulbright U.S. Student Program is the largest American international exchange program offering opportunities for students and young professionals to undertake international graduate study, advanced research, university teaching, and teaching in elementary and secondary schools worldwide. It currently awards approximately 1,800 grants annually in all fields of study, and operates in approximately 155 countries worldwide. Fulbright full grants generally provide funding for round-trip travel, maintenance for one academic year, health and accident insurance and full or partial tuition. Since its inception the Fulbright Program has provided about 310,000 participants, chosen for their leadership potential, with the opportunity to observe each others' political, economic and cultural institutions,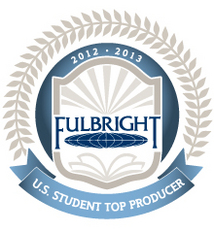 exchange ideas, and embark on joint ventures of importance to the general welfare of the world's inhabitants.
DePauw University is listed among the "Top Producers of Fulbright Awards for U.S. Students, 2012-13" in the Chronicle of Higher Education. DePauw was also cited as one of the USA's top producers of Fulbright Fellows in the publication's 2011, 2009, 2008, 2007 and 2006 listings.
See the names of DePauw's Fulbright recipients here or visit the University's Fulbright page.
DePauw students and alumni who are interested in applying for Fulbright Awards may contact David N. Gellman, associate professor of history, or Marion "Marnie" McInnes, professor of English and women's studies and director of nationally competitive scholarships.
Back