Butler Coach Brad Stevens '99 Recalls DePauw Playing Days in Washington Times
November 4, 2012
Brad Stevens, head men's basketball coach at Butler University, a new member of the Atlantic 10 conference, "recalled his own experiences playing at Division III DePauw, which switched conferences entering his senior year," reports the Washington Times.
"We went to new places. We saw new things," Stevens, a 1999 DePauw graduate, tells the newspaper. "It enhanced my experience greatly. I have a couple seniors now who I want to live that. I didn't want them to play a lame-duck year and not get a chance to experience what all these other guys will then for the next however many years are going to get the chance to."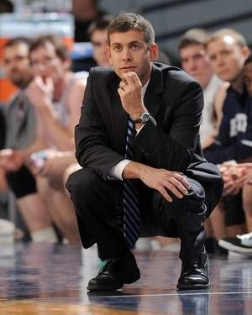 Access the article at the Times' website.
Brad Stevens led the Bulldogs to the championship game of the NCAA tournament in 2010 and 2011 and in March 2012 broke the NCAA record for most victories in the first five seasons as a head coach. An economics major and Management Fellow at DePauw, where he played basketball for coach Bill Fenlon, Stevens earned all conference and academic all conference honors all four years. He was named Butler's head coach on April 5, 2007.
On April 13, 2010, Stevens returned to his alma mater to deliver the Robert C. McDermond Lecture.
Back