Hilliard Lyons CEO Jim Allen '79 Featured in Publication
January 30, 2013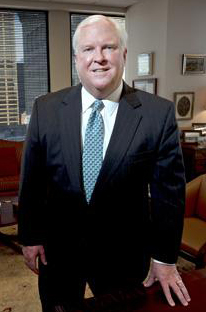 "Jim Allen started working for Louisville-based Hilliard Lyons fresh out of graduate school in 1981. And he has worked there ever since, rising from an equities analyst to become president and CEO in 2004," begins a feature in Business First. "Along the way, as the Internet made it easier for individuals to buy and sell stock, the company transformed from a brokerage firm into a wealth management and investment management company. Last year, Hilliard Lyons reached an all-time high in assets under management."
Allen, a 1979 graduate of DePauw University, tells the publication, "Clearly, the big challenge, not only for us but for our industry, relates to just interest rates being so low. It makes the bond market more difficult to navigate ... We've got about $2.5 billion in client money-fund assets, and we're waiving fees to provide a one-basis-point yield to clients there (because) rates are so low."
An economics major at DePauw, Allen earned an M.B.A. from Ohio State University. He is chairman of the Jefferson County Public Education Foundation, a nonprofit created in 1983 to assist the Jefferson County Public Schools financially and advance education locally.
The feature is available to subscribers at Business First's website.
Learn more about James R. Allen in this previous story.
Back