Article Offering Financial Tips to Incoming Freshmen Includes Advice from Prof. Mary Dixon
July 3, 2013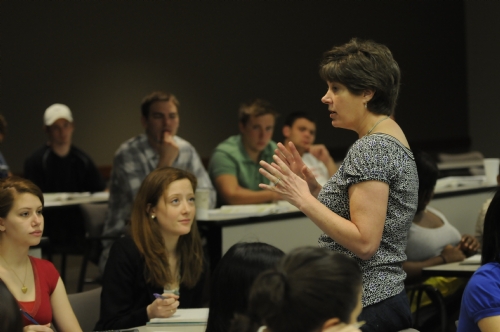 U.S. News and World Report turns to "a handful of academics and college financial advisers" who offer money management advice for incoming freshmen, among them, Mary Dixon, professor of economics at DePauw University.
"Credit cards are not ATMs," Dr. Dixon says. "Credit card balances are loans that have to be paid back -- and the interest rates are often high so the balance grows quickly if you only pay the minimum. Only charge what you can pay for that month, and pay your credit card balance in full every month."
The professor's other tips include, "Create a budget and keep track of how you spend your money," and, "Keep student loans to a minimum. Borrow only what you must, and be careful about using loan funds to finance things like Spring Break trips."

Dixon and the other experts quoted in the piece also offer personal anecdotes on financial lessons they learned while in college. She recalls that when she was an undergraduate, "Long-distance service was provided by an outside service and was very expensive. I had a $100 phone bill the first month." Geoff Williams, who compiled the article, adds, "In today's dollars, that would be $320.86."
You'll find the complete text -- headlined "Faculty Share Their Money Advice for College Freshmen" -- here.
Professor Mary Dixon, who will retire at the end of the 2013-14 academic year, reflects on her interactions with DePauw students in the video embedded below.
Source: U.S. News & World Report
Back