Celtics Coach Brad Stevens '99: Leadership Course at DePauw Was Impactful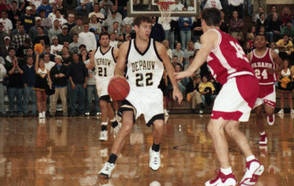 December 22, 2013
A Boston Globe story previewing the return of Brad Stevens to Indiana, where his Boston Celtics face the Pacers tonight, examines the leadership style of the Celtics head coach. Baxter Holmes writes, "Actually, one of the biggest influences in how Stevens leads was a course he took during his sophomore year at DePauw." (top image: Stevens in action as an undergraduate)
Stevens is in his first season leading the NBA team after coaching at Butler University. A 1999 DePauw University graduate, he tells the newspaper, "From my upbringing, from where I saw things, the loud, vocal, demanding voice in the room was the leader. And then I started learning more about, and studying servant leadership."
Holmes notes, "Stevens learned more about the subject during an internship at the Hartman Center for Civic Education and Leadership, where he studied the work of Robert K. Greenleaf, a 20th century proponent of servant leadership. The principal value behind that leadership style could best be explained through an example involving Stevens and his teams at Butler. When the Bulldogs' bus would pull up to a hotel on the road, he'd be the first one to start unloading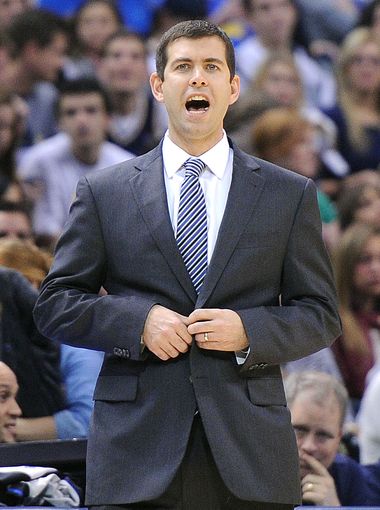 bags. His players, in turn, would help, as would others. 'It's not for everybody,' said Stevens, who would put on an apron and serve pizza to elementary and junior high students at Butler basketball camps. 'I'm sure there are plenty of people who have led without that. But it's a great way to lead. It keeps you grounded in what's important.' " (photo at left: Rob Goebel/Indianapolis Star)
Access the complete article, which also quotes DePauw head men's basketball coach Bill Fenlon, at the Globe's website.
"My experience at DePauw was about as beneficial as any experience I've had," Brad Stevens told ESPN.com last month. A Management Fellow and economics major at DePauw, Stevens was named the head coach of the Celtics in July, becoming the youngest current head coach in the NBA. At DePauw, Stevens played four seasons for Fenlon, earning all conference and academic all conference honors all four years. You can learn more about his college playing career here.
Back